Flipping items on Amazon has become an increasingly popular side hustle and money-making strategy. The concept is simple: you buy products at a low price, then resell them on Amazon at a higher price to turn a profit. While it may sound easy, being successful at flipping products on Amazon requires research, preparation, and strategic thinking.
This comprehensive guide will walk you through everything you need to know about getting started flipping products on Amazon.
What is Flipping on Amazon?
Flipping refers to buying products at a discounted price, then reselling them for a profit. Amazon flipping specifically involves purchasing inventory from various sources, then listing those items for sale on Amazon at a markup.
The key to successfully flipping products on Amazon is finding items to sell that have a high-profit margin. To do this, you need to source products at low prices, then determine the optimal price to list them on Amazon. The difference between your cost and listed price is your potential profit.
Why Flip on Amazon?
There are several advantages to flipping products on Amazon rather than other sites:
Built-in audience: Amazon has over 300 million active customers worldwide. Listing your products on Amazon gives you access to this massive market.
Trust: Amazon is a trusted marketplace. Customers feel confident purchasing from third-party sellers on Amazon.
Fulfillment: The Fulfillment by Amazon (FBA) program stores, packages, and ships your products for you. This saves you time and effort.
Customer service: Amazon handles returns and provides customer service for products fulfilled through FBA. This allows you to focus on sourcing and selling.
Tools: Amazon provides data and tools to help sellers price items competitively and identify promising products.
In short, Amazon provides the platform, customers, infrastructure, and data needed to efficiently run a flipping business online.
How to Start Flipping on Amazon
Getting started with flipping products on Amazon involves a few key steps:
1. Sign up for an Amazon Seller Account
You need an Amazon Seller Central account to list products for sale on Amazon. There are two main account types:
Individual: For those selling fewer than 40 items per month. Costs $0.99 per item sold.
Professional: For larger sellers selling more than 40 items per month. Costs $39.99 per month plus per-item selling fees.
Most flippers should start with an Individual plan then upgrade to a Professional plan once their volume increases. It's free to sign up for an Individual account.
2. Set up accounting and bookkeeping
Proper accounting is critical when running any business. QuickBooks Online is a popular choice for Amazon sellers. Track all your income, expenses, inventory, profit margins, and other key financial data.
3. Find products to flip
Sourcing profitable products is the most important part of Amazon flipping. More on finding products later in this guide.
4. Set up a seller workflow
Create systems and processes to streamline your Amazon seller operations. This includes:
Purchasing inventory
Preparing shipments to Amazon
Listing products & optimizing listings
Managing inventory, pricing, and orders
Providing customer service
Automate tasks when possible to scale efficiently.
5. Consider using FBA
Fulfillment by Amazon (FBA) handles storage, delivery, and returns for your products. This saves you time and effort. FBA fees apply but may be worth it.
Once you've completed these steps, you're ready to start finding and listing your first products on Amazon!
Finding Products to Flip on Amazon
Finding profitable products to resell is arguably the most important skill in Amazon flipping. Here are some top techniques to source products:
Clearance Arbitrage
Check clearance sections at major retail stores for deeply discounted items. Scan products in the Amazon Seller app to see current Amazon pricing and identify profitable flips.
Online Arbitrage
Use ecommerce arbitrage tools to find price discrepancies between Amazon and other online retailers. Purchase underpriced items to resell on Amazon.
Liquidation Sites
Websites like Bulq and Liquidation.com sell inventory by the pallet or truckload at heavily discounted rates. You can sometimes find products to flip at great prices.
Thrift Stores and Garage Sales
Search thrift stores, garage sales, estate sales, and auctions for hidden gems. This takes more time and effort but can uncover rare flips.
Wholesale Suppliers
Build relationships with manufacturers, distributors, and importers to buy inventory in bulk at wholesale rates. This requires higher upfront costs.
Private Label Products
Source custom manufactured products, create your own brand and packaging, then sell them exclusively on Amazon for full control and margins.
How to Check for Product Viability
Once you've identified a potential product to flip, you need to validate that it's a good opportunity. Here are some key factors to check:
Demand: Use tools to estimate monthly sales and search volume for keywords. Ensure there is sufficient demand.
Competition: How many other sellers offer the product? Can you compete on price or differentiate somehow?
Profit potential: Check current buy box price. Use the Amazon Revenue Calculator to estimate your profit margin after fees.
Seasonality: Does demand fluctuate at different times of year? Make sure to buy at the right time.
Restrictions: Check if the product is gated or requires approval. Make sure you can legally sell it.
Size and weight: Larger/heavier products have higher FBA fees. Make sure margins remain profitable.
Thoroughly vetting products using this criteria helps maximize your chances of flipping success.
How to List Products on Amazon
Once you've sourced inventory, it's time to create and optimize your Amazon listings. Follow these tips:
Create high-quality listings: Include detailed title, bullets, description and upload images that show your product's key features and advantages.
Research keywords: Use keyword research tools to find relevant search terms and optimize your listings for those keywords.
Price competitively: Check buy box pricing history using Keepa or CamelCamelCamel to optimize your price. Undercut competitors when possible.
Drive traffic to your listings: Use Amazon advertising like Sponsored Products, Sponsored Brands, and Product Display Ads.
Monitor performance: Keep track of your sales velocity, conversion rates, profits, and other KPIs. Tweak listings to improve.
Amazon Seller Fees and Expenses
When calculating your net profit from flipping, you need to consider all the various Amazon fees and other expenses:
Sourcing costs: How much you paid to purchase inventory, shipping
Amazon referral fee: 15% of sale price for most categories
Amazon FBA pick & pack fee: Ranges $1-$5 per unit, depending on size
FBA weight handling fee: Ranges $0.40-$80 per unit for FBA
FBA storage fees: Ranges $0.48-$2.40 per cubic foot per month
Shipping costs: Inbound shipping to Amazon warehouse and customer delivery
Seller account fee: $0.99 per sale for Individual, $39.99/month for Professional
Factor these fees into your Amazon Revenue Calculator estimates to determine true profitability.
Tips for Flipping Success on Amazon
Follow these tips to improve your chances of successfully flipping products on Amazon:
Start small – Test out just a few products first to learn the ropes before scaling up
Be patient – It takes time to start seeing sales. Don't get discouraged early on.
Minimize risks – Diversify products and categories. Don't invest too heavily in one product type.
Add value – Can you bundle items or enhance packaging to increase perceived value?
Provide great service – Fast shipping, responsive communication, and easy returns go a long way.
Reinvest profits – Use your profits to buy more inventory and compound growth.
The Pros and Cons of Flipping on Amazon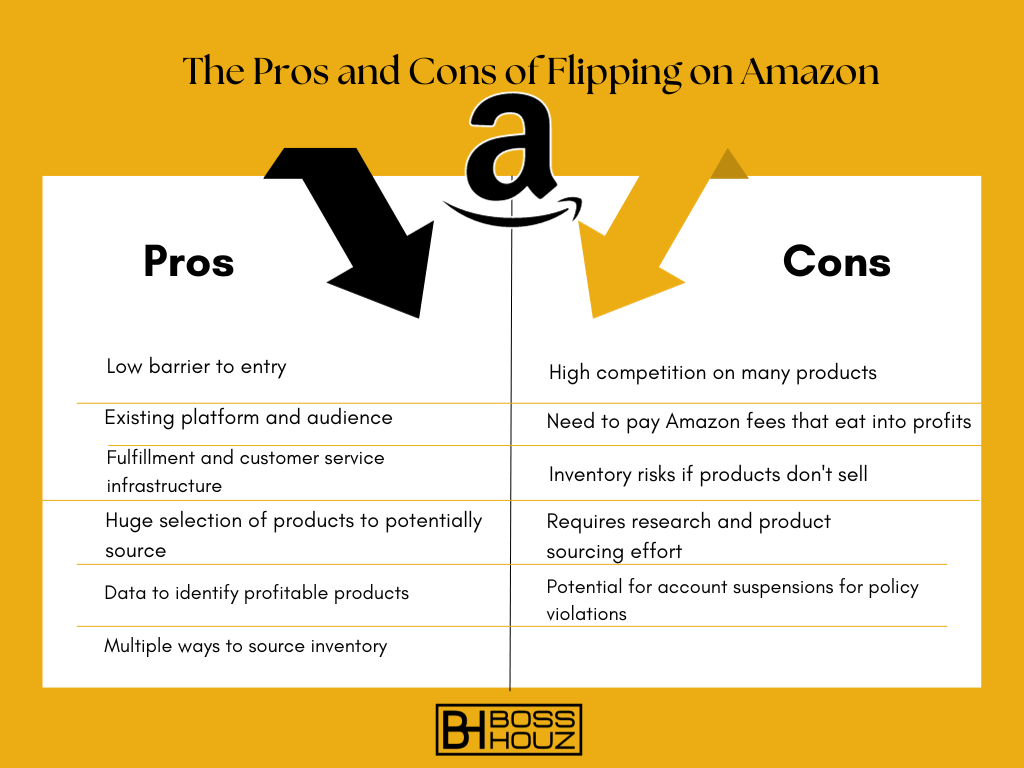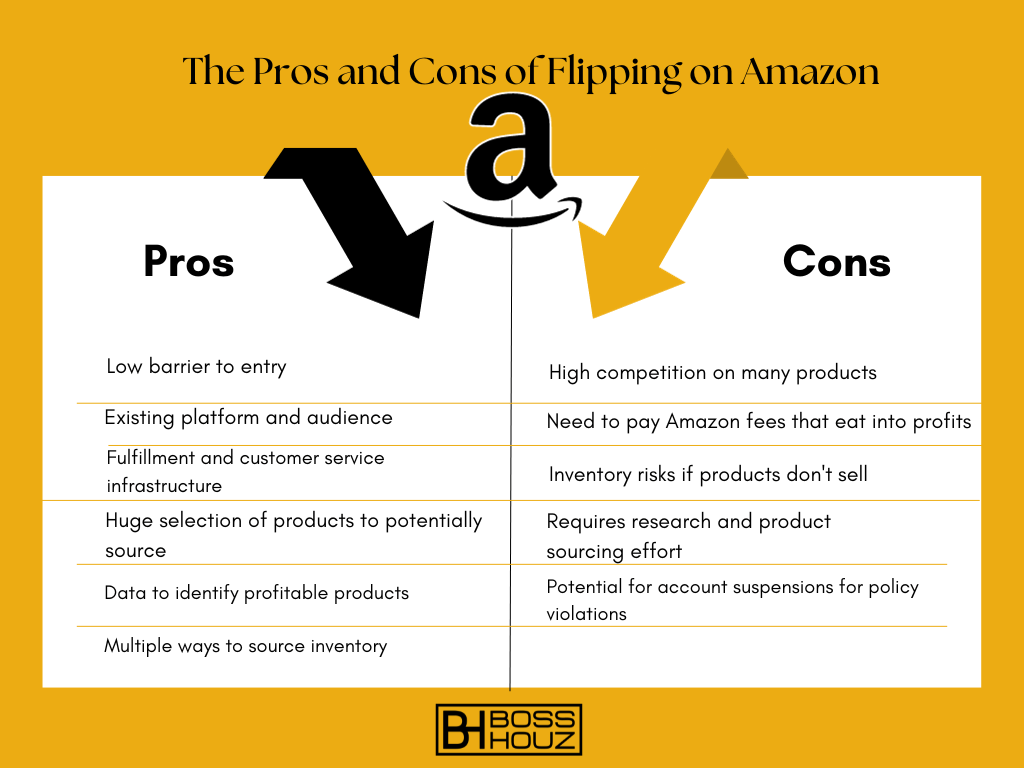 Pros
Low barrier to entry
Existing platform and audience
Fulfillment and customer service infrastructure
Huge selection of products to potentially source
Data to identify profitable products
Multiple ways to source inventory
Cons
High competition on many products
Need to pay Amazon fees that eat into profits
Inventory risks if products don't sell
Requires research and product sourcing effort
Potential for account suspensions for policy violations
Examples of Products Successfully Flipped on Amazon
Here are some examples of products that have proven to be profitable to flip on Amazon:
Toys and board games
Trending electronics like headphones and smart home devices
Kitchen gadgets and cooking implements
Popular apparel and footwear brands
High-end health and beauty products
Collectible coins, cards, and stamps
Out-of-print books or vintage books
Discounted gift cards and prepaid Visa cards
Almost any product category can work. It comes down to finding specific products with strong demand and healthy profit potential.
Frequently Asked Questions About Flipping on Amazon
How much money can you make flipping on Amazon?
Income potential varies widely. Many successful Amazon flippers generate over $2500 per month in profits, with some earning significantly more. Focus on high ROI products and scaling up volume.
What should I avoid when flipping products on Amazon?
Avoid restricted brands that require pre-approval, hazardous materials, and large oversized products. Only source products ethically and legally. Don't try to manipulate listings.
How much does it cost to start flipping on Amazon?
You can start flipping on Amazon for less than $500. Start by sourcing a few low-cost products using clearance arbitrage or thrifting. Minimize upfront risks when getting started.
Is flipping on Amazon still profitable?
Yes, despite increased competition, a dedicated flipper focusing on sourcing profitable products and executing well can still be very successful on Amazon. However, profit margins have tightened, requiring more effort.
Is flipping on Amazon legal?
Yes, flipping is perfectly legal on Amazon provided you source inventory legitimately and sell authentic name brand products. You cannot duplicate and sell counterfeit products or otherwise violate Amazon's terms.
Flipping on Amazon: Final Thoughts
Flipping products is a proven business model that can be highly lucrative on Amazon if done properly. Spend time learning how to source profitable products, manage your operations efficiently, provide customer satisfaction, and scale strategically.
Focus on maximizing return on investment for each product and order. Success requires an entrepreneurial mindset, sharp analytical skills, and excellent execution. But the financial and lifestyle payoff for those who achieve flipping success on Amazon is massive.