Have you ever thought about going into business with your spouse or partner? For some couples, working together may seem risky and stressful. But for others, it can be an incredibly rewarding adventure!
Combining your talents, skills, and passions can lead to a successful joint business venture. Plus, shared business ownership offers many advantages:
Improved communication and problem-solving abilities. You'll need top-notch communication to handle the challenges of business ownership together.
A deeper bond. Sharing the failures and successes of business will bring you closer together.
More flexibility. It's easier to coordinate time off when you set your own schedules.
Pooling resources. You can combine your savings and tap into each other's networks.
This guide will explore some of the top business ideas for couples in categories like:
Food businesses – food trucks, coffee shops, bakeries
Online businesses – blogging, virtual services, e-commerce shops
Real estate ventures – rentals, B&Bs, campgrounds
Pet care services – dog walking, pet sitting
We'll also cover keys to success when launching a business with your spouse and answer common FAQs. Ready to turn your dreams into reality? Read on to start your exciting entrepreneurial journey together!
ㅤ
Top Business Ideas for Couples
😊 There are so many great options to choose from when it comes to possible business options all you partners in crime. Let's explore some of the top business ideas for couples in different categories.
Food Businesses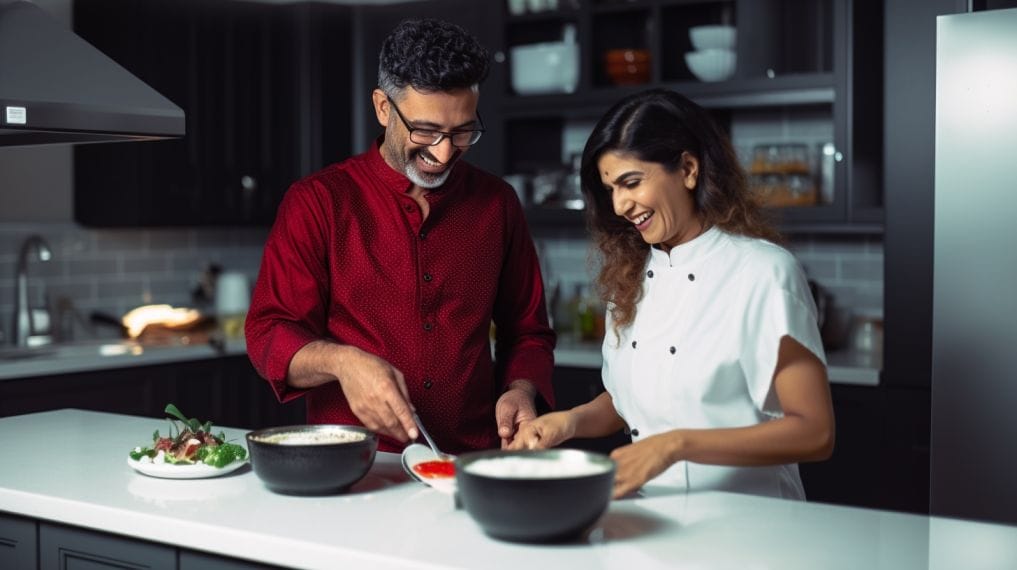 Do you and your spouse both have a passion for food? If so, consider putting your taste buds to work with one of these tasty business ideas!
Fire Up a Food Truck
Want a more flexible alternative to opening a restaurant? A food truck may be the perfect culinary venture for you two.
Pro Tip: Offer a signature dish that wows people! Like mac and cheese sandwiches or Korean short rib tacos.
Brew Up Success with a Coffee Shop
Does your ideal date involve sipping locally roasted brews? If so, turn your shared love of coffee into a business!
Opening a cafe is less costly than a full-scale restaurant since you only need a small space. The limited menu also allows you to focus on quality over quantity.
Run it together by having one spouse handle the coffee while the other charms customers. Or hire a manager so you can schedule couple time off.
Fun Fact: The global coffee shop market size is expected to reach $126 billion by 2028!
Cook Up a Cloud Kitchen
Want to serve hungry foodies without a physical store? A cloud kitchen lets you prepare meals strictly for delivery/takeout.
Without a dining room, you don't need wait staff or extra space. However, you'll still need a commercial kitchen for cooking. Consider partnering with other food brands to share costs.
Warning: This business relies heavily on marketing and delivery partnerships. Don't skimp on promoting your virtual restaurant!
Rise Early with a Bakery
Is one of you a wizard with bread and pastries? Put your skills to work by opening a bakery together.
While startup costs are high, bakeries need less equipment, seating, and inventory than restaurants. You can sell your baked goods in-store, supply cafes and shops, or even deliver them!
Tip: Consider renting a shared commercial kitchen first to test your products before investing in your own space.
Online Businesses
Prefer pajamas over a suit and tie or pencil skirt? These online business ideas allow you to work from home together!
Create Content with Blogging or Vlogging
Have a shared passion for something like hiking, movies, or parenting? Create online content centered around it!
Fact: Over 600 million blogs are on the internet today! Ready to start yours, as a couple?
Sell Your Stuff with an Etsy Shop
Both crafty and creative? Open an Etsy shop to sell your handmade goods, vintage finds, or crafting supplies.
List your unique products on Etsy's popular marketplace. One of you can handle creating and producing items while the other markets your shop and handles orders.
Idea: Curate customizable gift sets with your products to boost sales!
Resell Trendy Items as an Online Reseller
Fans of flea market finds and thrift stores? Why not resell your best digs online for profit?
Scour garage sales, estate sales, and consignment shops together for items you can flip for more on eBay, Facebook Marketplace, and other sites.
Tip: Focus on niche categories you're experts in like vintage toys, sports memorabilia, or designer fashion.
Launch a Subscription Box Venture
Subscription boxes let customers sign up to receive curated packages of goodies regularly by mail. It's a scalable e-commerce model if you pick a focused niche.
If you both love coffee, you could offer monthly deliveries of different coffees and brewing gadgets. Dream up a theme you're both passionate experts in!
Fun Fact: The subscription box industry has grown over 100% annually for the past 5 years.
Real Estate Ventures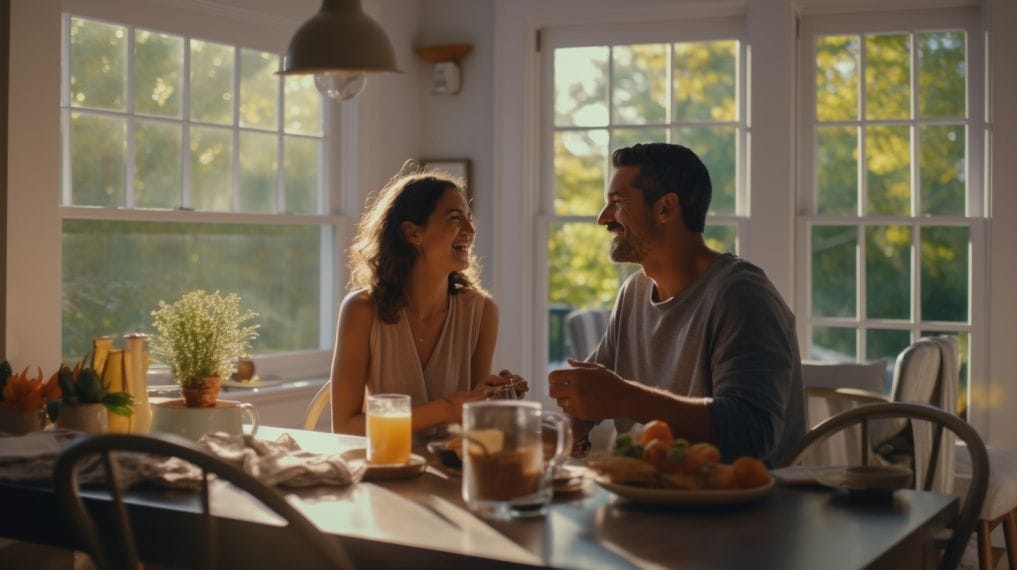 Have a knack for property management or just enjoy hosting? Try one of these real estate-based business ideas.
Manage Rental Properties
Looking for more passive income? Consider investing in a rental property and managing it together.
Tip: Screen potential tenants thoroughly through credit/background checks to avoid issues.
Run a Charming Bed and Breakfast
If you two are natural hosts and own a historic or quaint home, turn it into a cozy B&B!
Handle tasks like cooking, cleaning, and maintenance together. You set your own pace since you'll live on-site.
Heads Up: Most guests expect a certain old-world aesthetic from B&Bs. If your home doesn't fit the bill, you may need to invest in a new property first.
Own Your Own Campground
Enjoy the great outdoors as a couple? Run a campground business on some beautiful land.
Offer campsites, cabins, and amenities for tent campers, RVers, glampers, and everyone in between. Manage it yourselves or hire a resident manager.
Pro Tip: Expand your offerings with fun activities like scavenger hunts, crafts, hiking, kayaking, and more!
Pet Care Services
Do you and your partner both adore animals? Turn your mutual love for furry friends into a profitable career.
Walk Dogs as Canine Pet Sitters
If you're paw-some with pets, become professional dog walkers! Schedule walks with busy pet owners during your downtime for a fun side income.
Pet parents will pay for you to walk Fido so they don't have to rush home at lunch or after work. It's easy, flexible income.
Tip: Set policies upfront on things like inclement weather and sick dogs to avoid issues down the road.
Pamper Pets with In-Home Pet Sitting
Prefer snuggling pets over walking them? Offer at-home pet sitting services instead!
Watch clients' cats, dogs, fish, hamsters, and more while they're traveling. Stop in to feed, play with, and care for their fur babies.
Fun Fact: Over two-thirds of U.S. households have a pet! Your potential client base is huge.
Other Possible Business Ideas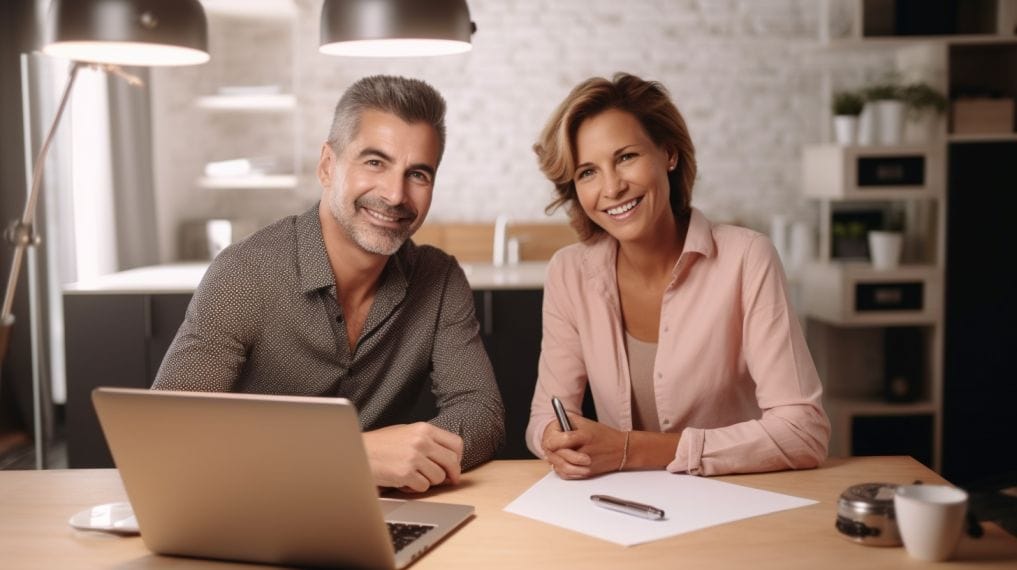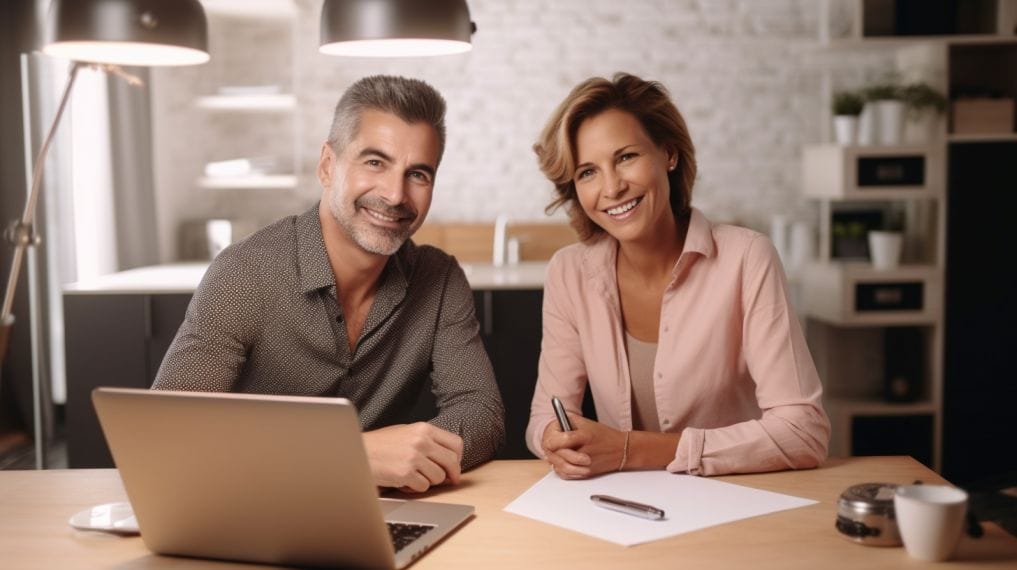 These other options weren't in the original articles, but they could also be amazing business ventures for couples!
Teach Fun Fitness Classes Together
You can even target couples with partner workout classes! Think acro-yoga, dance aerobics, or outdoor bootcamps for pairs.
Capture Life's Moments as Wedding Photographers
Most wedding photographers work solo. Stand out by offering a dedicated husband/wife photography duo!
Capture those special moments from different perspectives. One could focus on candid shots while the other handles traditional portraits.
Build Dream Vacations as Travel Agents
Help travelers plan their perfect getaways by starting a home-based travel agency. You can even plan some research trips together!
Focus on destinations you've visited or specialties like adventure tours, cruises, or family vacations. Become the go-to experts for certain trips.
Clean Up with Home or Office Cleaning
Help overwhelmed homeowners or business owners by launching a professional cleaning company.
Offer basic custodial services or specialized options like deep cleaning, organizing, window washing, and pressure washing. Divvy up tasks based on your individual strengths and weaknesses.
Those are just a few of the many options for great business ventures for married couples or other romantic partners. As you can see, you really have endless possibilities depending on your shared interests and skillsets.
Hopefully reading through these ideas sparked inspiration for potential ways you and your spouse could turn your passions into profits together!
Keys to Success When Starting a Business as a Couple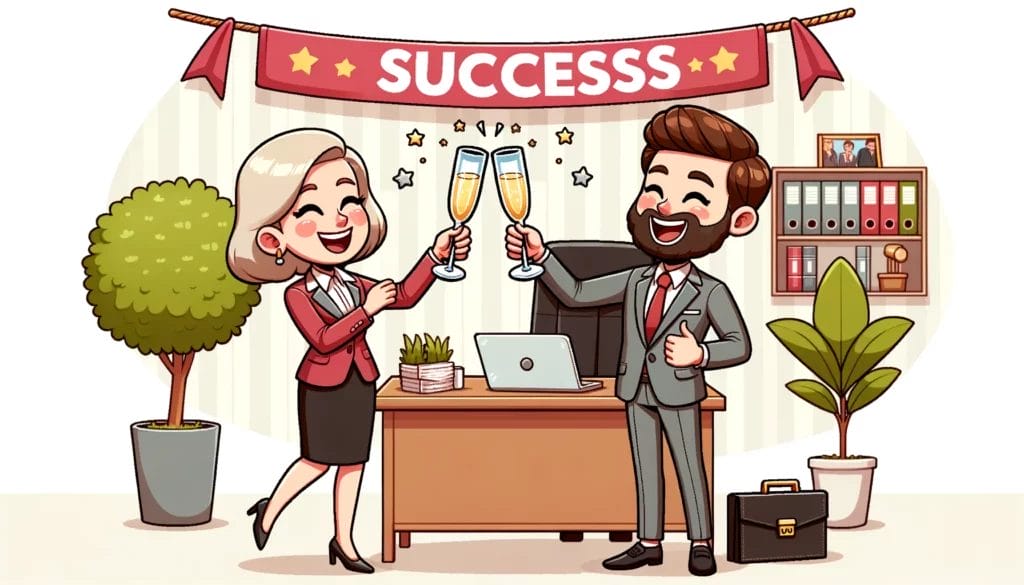 You've got a brilliant business idea, and you're ready to launch your joint venture with your spouse or partner. Awesome!
Now, let's talk about how to set your new business up for success.
Here are some keys to success when starting a company with your significant other:
Ensure Your Relationship is Solid First
Before diving headfirst into a business, take time to honestly assess your relationship. Starting a venture together can strain even the strongest bonds.
When you've nurtured a supportive partnership built on trust and compassion, you'll be primed for shared business success.
Save Up a Safety Net
Without regular paychecks, you'll need a cushion in case it takes time to become profitable. If the business fails entirely, you don't want to lose your home or go into debt.
Having adequate savings gives you the freedom to take smart risks and wait out slow periods when you're starting out.
Define Your Individual Roles
Avoid stepping on each other's toes by deciding who will handle what duties right from the start.
Write out job descriptions that play to each person's individual strengths. For example:
Spouse A: Marketing, social media, sales
Spouse B: Accounting, legal, operations
Clear divisions of responsibility help things run smoothly and prevent arguments about "that's not my job!"
Schedule Regular Non-Work Time
It's easy for business to bleed into your personal lives when working as entrepreneurial partners. Be intentional about setting boundaries.
Make time for weekly date nights or activities with other friends so you don't just talk "shop." It's important to nurture your relationship as spouses, not just business partners.
Taking breaks from the shared business will help you come back refreshed, with renewed energy and inspiration. Absence really does make the heart grow fonder!
Communicate, Communicate, Communicate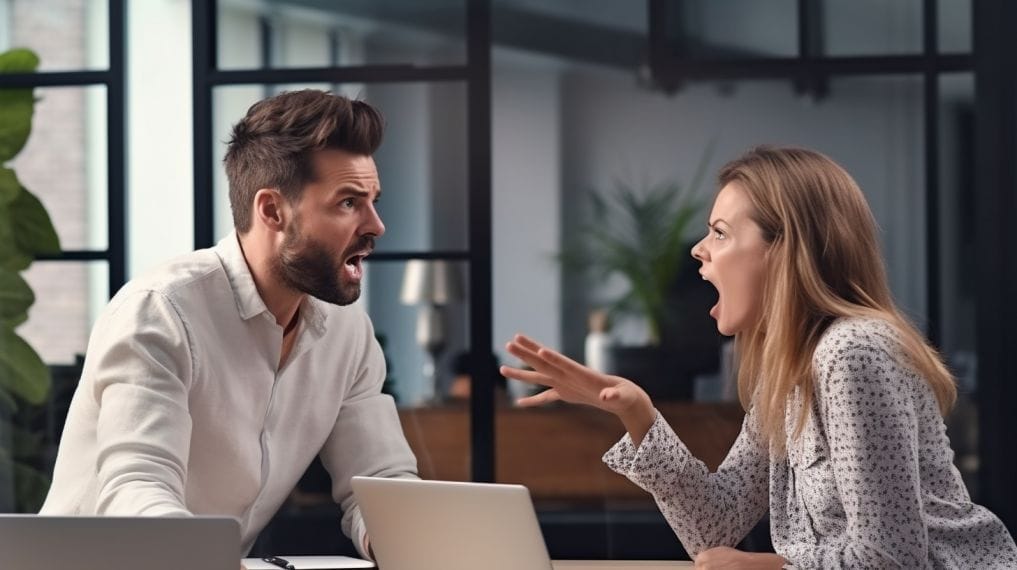 This one cannot be overstated. Communication issues can destroy a marriage or any relationship. Don't let business drive you apart.
Listen to each other fully, with empathy and open minds, not just to respond. And compromise when needed so it doesn't become "your way or the highway."
Don't Forget Self-Care
Entrepreneurship often requires long hours and sacrifice. But don't drive yourselves into the ground.
Carve out time for self-care like exercise, healthy food, social activities, and hobbies.
Also, get into the habit of regular vacations, even if just small weekend trips at first.
Don't just visualize "someday" – start living your best lives now. Prioritize fun and relaxation time together, amid the hustle. You'll be far more creative, motivated, and energized.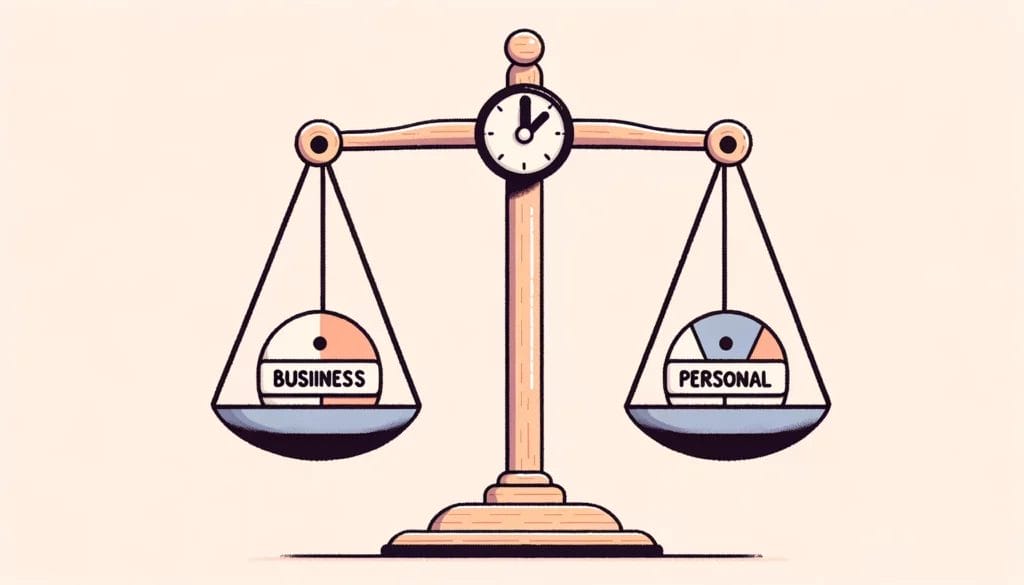 Launching a new venture will have its fair share of hurdles. But going into business as a team, if done right, can make your relationship stronger than ever.
Lean on each other, communicate openly, and commit to nurturing your partnership along the way.
Here's to doing what you love, with the person you love by your side! ❤️
Legal Structure and Finances
You and your sweetie have decided to tie the knot…in business! 💍Before you print those "Just Married" mugs and launch your empire, there are some un-fun logistics to handle.
I know, I know. Paperwork and money stuff isn't very romantic. But establishing the proper legal and financial foundations will save you headaches down the road!
Here are some key considerations for new business couples:
Choosing a Business Structure
The first big choice is deciding what type of legal entity to form your business as. Some common options:
Sole proprietorship – Easy and affordable, but partners share unlimited liability.
Partnership – A bit more protection than sole proprietorship but still shared liability.
LLC – Offers liability protection and pass-through taxation. A popular pick!
S Corporation – Another option if you want liability protection plus tax advantages.
Talk to legal and tax pros to determine what's best for your particular situation.
Setting Up Accounts
Once you choose a business structure, it's time to get your accounts established! Here are a few to tackle:
Business bank account – Keep your business funds separate from personal.
Accounting software – Track income, expenses, inventory, taxes, and more.
Business credit card – Earn rewards on purchases while building business credit history.
Pro Tip: Keep meticulous records from the start. You'll thank yourself at tax time!
Navigating Taxes as a Married Couple
Running a business together while married? Tax time may get a bit more complicated.
Some things to be aware of:
You can employ your spouse and take tax deductions.
But careful to follow rules if you claim them as a dependent.
Also consider how marital assets like home and savings are treated.
Consult a tax professional to make sure you maximize write-offs and avoid any missteps.
Funding Your Venture
Ready to get down to the nitty gritty of paying for this thing? Here are some options to fund your couples' business:
Personal savings – The most obvious route. Don't blow all your money though.
Business loan – Borrow from a bank or alternative lender. Make sure you qualify!
Crowdfunding – Sites like Kickstarter and Indiegogo let you raise funds from the public.
Business partners – Consider bringing on a silent partner or investors to raise capital.
Finding the money you need to start and grow will be one of your first big tests as a business couple. Time to put your heads together! 🧠
Handling legalities and finances might not be glamorous. But taking the right initial steps will give your business a sturdy backbone.
Now go show the world what an amazing entrepreneurial team you are!
Marketing Your Couples Business
You and your special someone have started a business together. Congrats! 🎉 Now it's time for the not-so-fun part: marketing and promotion.
Here are some effective marketing tips for co-owned businesses:
Leverage Your Combined Networks
As a couple, you have each built your own personal networks over the years. Now's the time to tap into them!
Make a master list of all your contacts across social circles, professional connections, community groups, and more. Then strategize how to get the word out.
Send personal emails, make phone calls, and tap into your networks by letting people know about your new venture. Share stories about how you founded the business together. Show photos of you two hard at work. Make people want to support you!
Harness the Power of Social Media
From Facebook to Instagram to TikTok, social media offers amazing (and free!) opportunities to spread brand awareness.
Create business profiles on key platforms. Post frequently to share your mission, products/services, and business milestones. Run targeted ads to reach ideal customers.
And don't forget to highlight your romantic partnership! Share fun behind-the-scenes peeks into running a business with your significant other. People love relatable #relationshipgoals content.
Get Press Coverage
Contact local newspapers, magazines, bloggers, and other media outlets to tell your story as a couple-preneurial team.
Many reporters and journalists love profiling small businesses with unique backstories and human interest angles. Play up the fact that you're in both business and love together.
Scoring features and interviews is free publicity that boosts credibility big time!
Experiment with Advertising
Buy some ads to reach new audiences outside of your current circles. Options include:
Google/Facebook pay-per-click (PPC) ads
Print ads in local papers and magazines
Direct mail postcards
Billboards or banners
Test different strategies to see what resonates best with your ideal audience and brings in sales.
Spreading the word is key to getting your business off the ground. Take advantage of all the marketing tools available to you as a dynamic duo!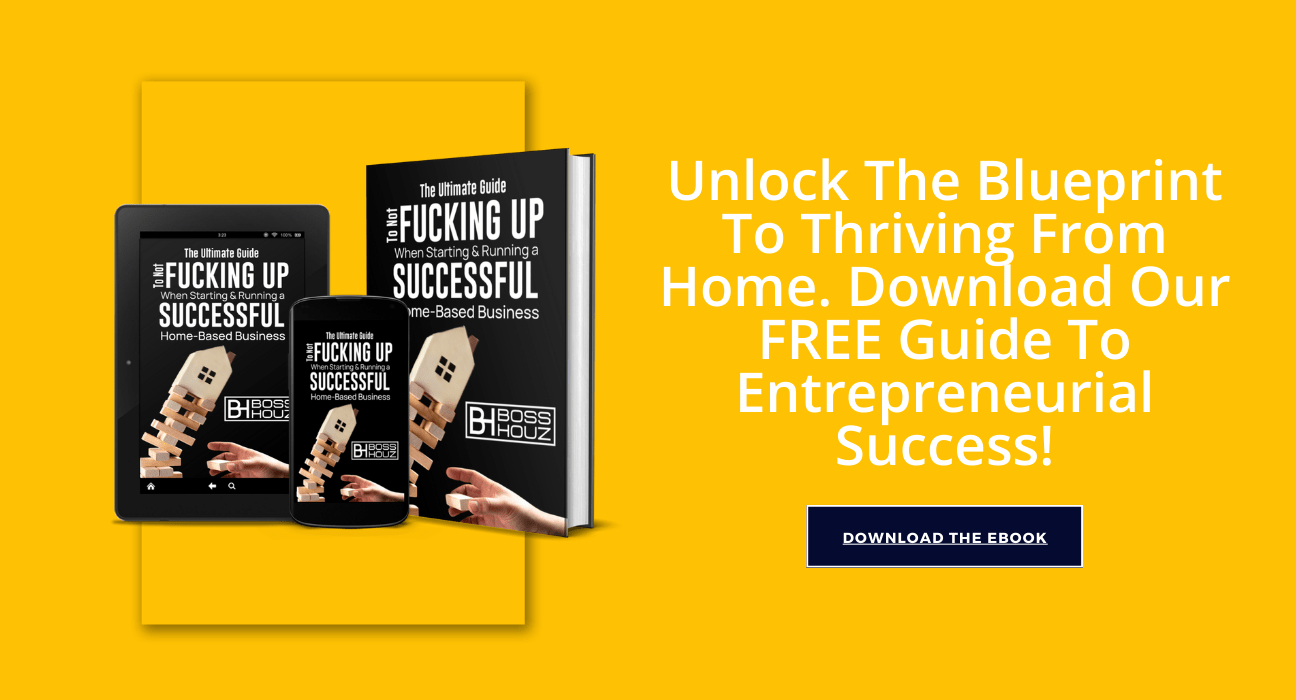 Frequently Asked Questions
Curious about starting and running a business with your spouse or partner? You probably have a lot of questions! Here are answers to some FAQs about couple-preneur ventures:
What are some good business ideas for couples?
Some top business ideas for couples based on common interests include:
Food businesses like restaurants, food trucks, bakeries
Pet care such as dog walking, pet sitting
Fitness including gym ownership, personal training
Travel agencies, hospitality like B&Bs
Creative ventures like photography, videography
Online businesses like blogging, e-commerce, consulting
Think about what you're both passionate about and good at!
What are the benefits of starting a business together?
Some perks of a couples business include:
Getting to collaborate creatively
Growing deeper understanding and respect
Increased flexibility with schedules
Shared financial rewards
Leveraging combined skill sets
Bonding through shared experiences
What are challenges of a business as a couple?
It's not always easy:
Disagreements can strain your relationship
Work and personal life balance is harder
Financial risk falls on both of you
No separation if you need space
Constant communication is key to overcoming challenges!
How can couples decide on the right business idea?
Brainstorm ventures that:
Interest you both – What gets you excited? What do you geek out on together?
Utilize your strengths – What are each person's skills, talents, education?
Fit your lifestyle – Do you want flexibility or set hours? Office or outdoors?
Meet your financial goals – Consider risks, startup costs, income desires.
Make lists separately, then compare! Look for overlap.
How should couples split up roles and duties?
Discuss your strengths/weaknesses – Who is more organized? Creative? Outgoing?
Split complementary tasks – Pair things up strategically. Don't overburden one person.
Re-evaluate over time – Be open to shifting roles as you figure out what works.
Outsource what you both dislike – Hire for things like cleaning, accounting, etc.
How much money do couples need to start a business?
It really varies based on your industry and location. Some ballpark ranges:
Low investment like service businesses: $2,000 – $10,000
Medium investment like retail spaces: $10,000 – $50,000
Large investment like restaurants: $100,000+
Save up to cover at least 6 months of personal living expenses too.
How can couples balance work and personal life?
Set boundaries – Designate couple time that's work-free.
Take separate vacations – It's healthy to do non-work activities apart sometimes.
Avoid shop talk at home – Make home your sanctuary after hours.
Outsource – Hire so you're not overwhelmed by doing it all yourselves.
What are tips for good communication?
Schedule regular check-ins – Don't just wing it. Connect frequently.
Take time to cool off – Revisit tense conversations after emotions settle.
Listen without judgment – Let each person speak their truth.
Compromise – You're partners in every sense, so find middle ground.
Resolve issues before bed – Don't let problems fester overnight.
Conclusion
If you've made it this far, it's clear you and your partner are seriously considering taking the plunge into business ownership together. How exciting!
We covered a ton of ground in this guide, exploring all sorts of promising business ideas for couples along with tips for success.
Here are the key takeaways:
Choose a business concept you're both passionate about and play to your individual strengths.
Build a strong foundation for your relationship and finances before diving in.
Market your joint venture by leveraging your combined networks.
Maintain open communication, compromise, and nurture your romantic bond.
Have fun launching something meaningful together!
Of course, there's a lot more to learn about starting and running a profitable, sustainable business. But you're off to a great start just by reading this guide and doing that initial research together!
Now it's time to take that first step and turn your dreams into reality, as a couple! Wishing you huge success as you embark on this wonderful adventure together.
Go get 'em, partners! 😉✌️