Hey there fellow coffee lover! ☕️ Looking to start a dropshipping coffee business but not sure where to begin? Well you've come to the right place.
In this guide, I'll walk you through everything you need to know to launch your own drop shipping coffee shop from scratch. You'll learn:
What drop shipping is and how it works in the coffee industry
The different types of coffee drop shipping models you can choose from
How to find and choose the best coffee suppliers and wholesale coffee
Tips for selecting delicious coffee to sell and figuring out your unique brand
How to set up a drool-worthy online coffee shop
Top marketing strategies to hook customers and drive sales
Common mistakes to avoid along the way
Drop shipping is hands-down the easiest, most affordable way to live your dream of selling incredible coffee without all the overhead.
So brew a fresh cup and settle in. It's time to master the art of drop shipping coffee!
ㅤ
ㅤ
Understanding the Dropshipping Coffee Model
So you're interested in jumping into the drop shipping coffee game? Grab a fresh cup of joe and let's dive in!
What is Drop Shipping Coffee?
Drop shipping is a retail fulfillment method where a store (that's you!) sells products but doesn't actually keep them in stock. Instead, when you get an order, you forward it to a supplier or manufacturer who ships the product directly to the customer for you.
This is perfect for aspiring coffee connoisseurs who want to start selling roasted coffee beans online without needing to store inventory. The suppliers handle sourcing, roasting and fulfillment while you focus on branding, marketing and managing your online coffee shop.
Here are the key players in the drop shipping coffee model:
Suppliers: Source, roast and ship coffee to customers
You: Create brand, market products, manage orders
Customers: Buy delicious coffee you sell online
It's a win-win-win for everyone involved!
Different Drop Shipping Coffee Models
When it comes to choosing a coffee supplier, you've got options for how hands-on you want to get:
White Label Coffee
This is the easiest route – you sell pre-made coffee blends from your supplier under your own brand name. The supplier handles roasting, packaging and shipping. You just design labels and market the coffee as your own creation!
Pros:
No roasting or sourcing required
Low effort to get started
Cons:
Less control over coffee quality
Harder to differentiate brand
Private Label Coffee
Want more involvement in creating your coffee? Private label allows you to work directly with a roaster to create unique blends sold under your brand. You control the roast profiles, packaging, naming – everything!
Pros:
Create totally custom coffee
Full control over end product
Cons:
More effort required
Need coffee expertise
Resell Existing Brands
New to the game? Consider reselling beans from established roasters. You skip branding but can still market the products through your store.
Pros:
Least effort to manage
Proven products
Cons:
No brand differentiation
Low margins
So in a nutshell, drop shipping coffee lets you sell fresh roasted coffee online without the overhead of sourcing, storage and shipping. Time to start brewing up a business plan! Let's dive into the details…
How to Start Drop Shipping Coffee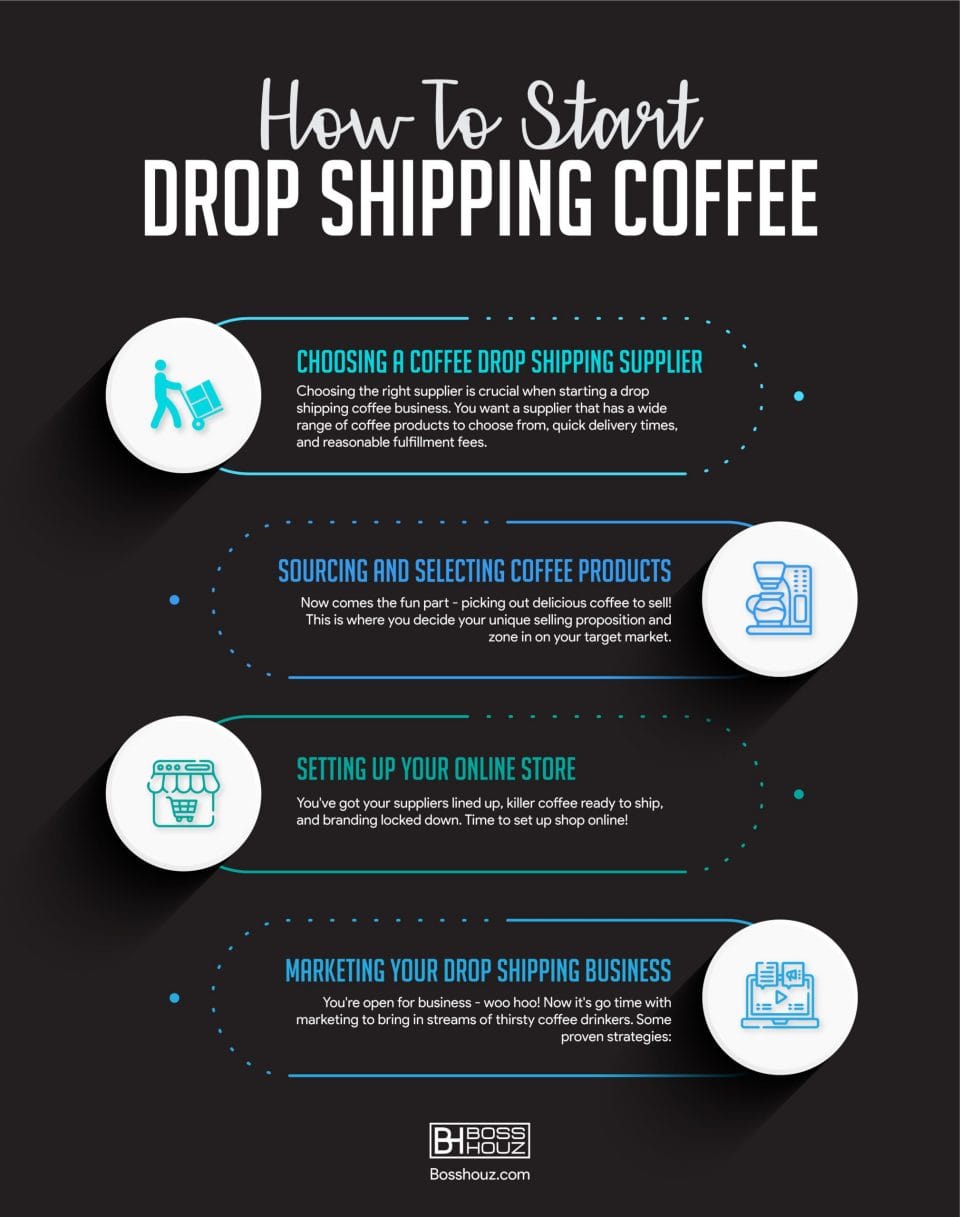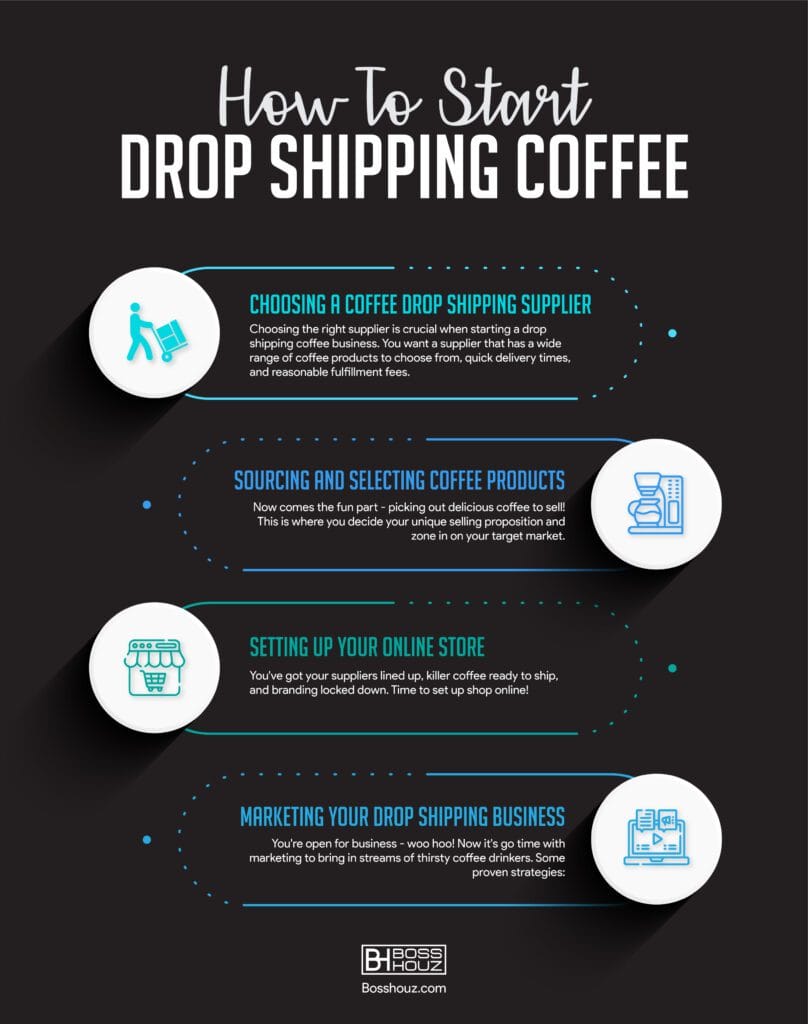 Step 1: Choosing a Coffee Drop Shipping Supplier
Choosing the right supplier is crucial when starting a drop shipping coffee business. You want a supplier that has a wide range of coffee products to choose from, quick delivery times, and reasonable fulfillment fees.
When researching suppliers, ask yourself:
What types of coffee roasts do they offer – light, medium, dark? Any unique options like espresso or French press?
Do they have white label or private label options? This allows you to sell coffee under your own branding.
What are their wholesale coffee minimum order quantities? Can you order small batches to test different products?
How fast is their order fulfillment and shipping? Speedy delivery means happy customers!
What are their packaging and labelling options? Can you customize with your own branding?
What is their reputation like? Read reviews and ask for referrals from other drop shippers.
A supplier with a wide selection and flexibility will make it easier to find the perfect coffee products to sell in your store. And quick fulfillment means your customers get their morning cup of joe ASAP!
Step 2: Sourcing and Selecting Coffee Products
Now comes the fun part – picking out delicious coffee to sell! This is where you decide your unique selling proposition and zone in on your target market.
Some tips for choosing winning coffee products:
Pick a memorable brand name and design eye-catching packaging. This is your chance to stand out!
Focus on a specific coffee origin like Colombian or Sumatran beans. Coffee snobs love single origin varietals.
Offer different coffee roasts like light, medium and dark. And throw in some unique ones like espresso roast.
Consider your target market – are you selling to eco-conscious millennials or coffee purists?
Sell complementary products like milk, sugar, cups, coffee makers. Anything to enhance the coffee experience.
Offer coffee subscriptions so customers get fresh roasts delivered regularly.
Getting the product mix right is crucial. You want options to appeal to coffee lovers of all kinds – dark roast fanatics, single origin nerds, cafe au lait connoisseurs. Diversify your offerings while staying true to your brand.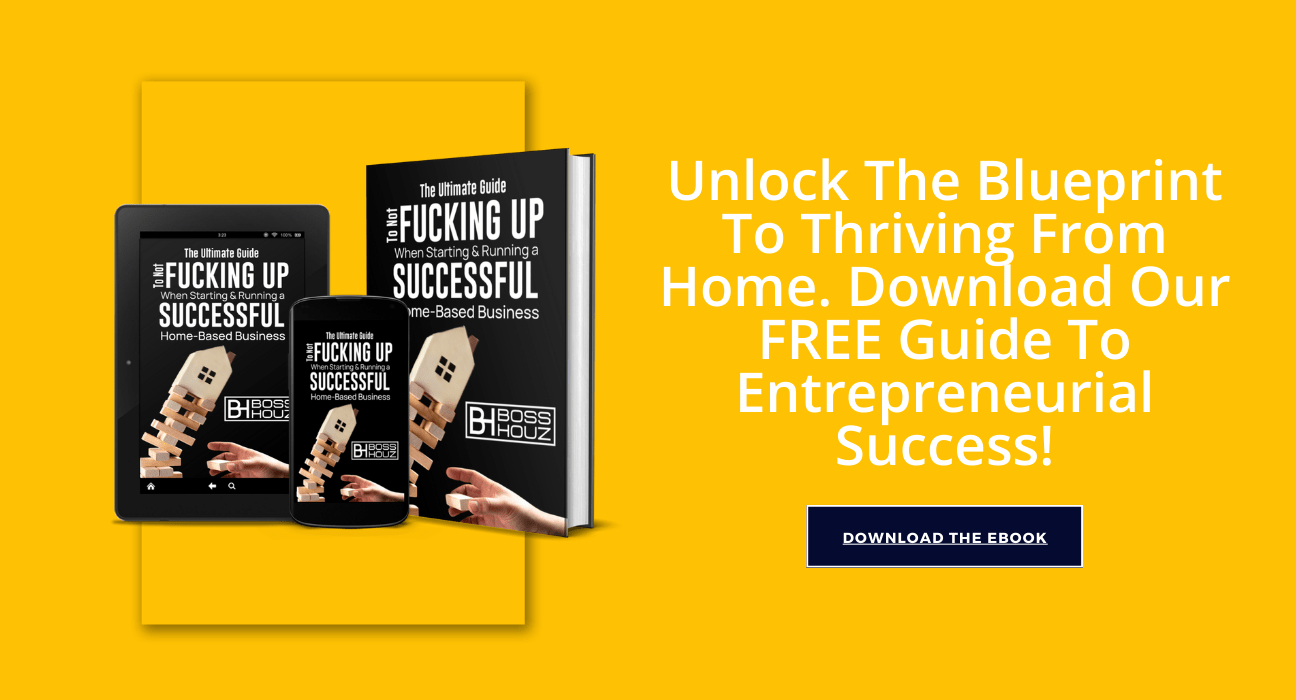 Step 3: Setting Up Your Online Store
You've got your suppliers lined up, killer coffee ready to ship, and branding locked down. Time to set up shop online!
Some tips for setting up your drop shipping coffee store:
Use a platform like Shopify or WooCommerce that's optimized for drop shipping businesses. Lots of handy apps and integrations.
Make sure your store screams coffee through the design – mocha colors, coffee bean graphics, barista images. Brand it up!
Focus your product descriptions on the coffee origin, roast, aromas, and taste notes. Coffee is sensory!
Include high quality images and videos showing your coffee products. First impressions matter.
Add sections showcasing your brand story and brewing guides – build a community!
Integrate email marketing platforms like Klaviyo to collect emails and promote your coffee.
Building a drop shipping store centered around your passion for coffee is a blast. Let your ecommerce platform bring your cafe vision to life online in a snappy, stylish way. Then get ready to…
Step 4: Marketing Your Drop Shipping Business
You're open for business – woo hoo! Now it's go time with marketing to bring in streams of thirsty coffee drinkers. Some proven strategies:
Run targeted Facebook and Instagram ads promoting your latest roasts. Social media goldmine for coffee brands.
Send promotional emails to subscribers highlighting new products or discounts. Email marketing fuels sales.
Write blog posts with titles like "Our 10 Best Dark Roasts" or "Coffee Pairings for Dessert Lovers". Share on social.
Reach out to influencers who love coffee and see if they will feature your brand. The power of influence!
Submit your shop to coffee review sites. Getting glowing reviews builds credibility.
Create SEO-optimized content focusing on your coffee origins and types. Rank high in search!
Partner with complementary brands like bakeries to do joint promotions. Cross-pollinate audiences.
Run contests and giveaways for free coffee samples and merchandise. Great way to build your email list!
With smart digital marketing and partnerships, your drop shipping coffee business can gain a dedicated following of caf-fiends. Now get out there and go get 'em, tiger! 🐯☕
Keys to Coffee Drop Shipping Success
Alright, we've covered the nuts and bolts of starting a drop shipping coffee business. Now let's chat about how to actually thrive and succeed long-term in this buzzing industry.
Here are my top tips for brewing up drop shipping coffee glory:
Choose the Right Niche & Target Market
With so many roasts and origins out there, it's tempting to try selling every type of coffee under the sun. Resist the urge! Focus your niche to better attract your ideal customer.
Some ideas:
Single origin coffees from a specific country like Ethiopia or Brazil
Dark roasts for the bitter brew loyalists
Eco-friendly organic fair trade beans
Specialty blends like espresso and cold brew
Zero in on a niche that speaks to your passion as a coffee purveyor. You'll come across as more authentic to potential customers.
Build Strong Supplier Relationships
Your suppliers are your lifeline, so nurture those relationships! Communicate often, provide feedback, and work collaboratively. Negotiate better rates as you grow.
Ask if they have any partnership or affiliate programs you can join to increase incentives. The better your supplier relationships, the smoother your operations.
Keep Tabs on Inventory Turnover
Carefully track how quickly your coffee products are selling using inventory turnover rate. If turnover is low, you may need to tweak your pricing, marketing or product selection to drive up sales.
High turnover means you're adeptly matching supply to demand – the hallmark of a thriving drop shipping mogul!
Create Killer Marketing Campaigns
Devise targeted marketing plans to get the word out and drive sales. Experiment with:
SEO to rank high in organic search results
Email sequences that convert subscribers to customers
Social media ads tailored to your niche
Content marketing like coffee brewing tips
Partnerships with complementary brands
Provide Awesome Customer Service
Don't underestimate the value of top-notch customer service. Offer quick responses, honest feedback and a stellar returns process.
Go above and beyond to show customers you care. This earns loyalty and sets you apart from competing coffee sellers.
Keep Innovating!
Complacency is the enemy of lasting success. Always refine your products, evolve your brand, test new marketing channels, and improve your operations.
Stay nimble and creative, and your drop shipping coffee endeavor will keep growing and thriving.
So there you have it – follow these tips and you'll be well on your way to drop shipping greatness! Savor the rewards of entrepreneurship along with smooth, aromatic cups of joe. ☕
Frequently Asked Questions
You've got the basics of drop shipping coffee now, but I know you likely have more Q's bouncing around that beautiful brain. Let's tackle some commonly asked questions:
Is drop shipping coffee profitable?
Absolutely! The coffee industry is valued at over $465 billion globally. And with the rise of specialty roasts and direct-to-consumer online sales, there's never been a better time to tap into this market.
Just be sure to:
Source quality coffee through reputable suppliers
Create a brand that stands out
Use targeted marketing to attract coffee diehards
Do this well and you can absolutely build a lucrative drop shipping coffee business.
What are the costs involved in drop shipping coffee?
Initial costs are low! Because you don't carry inventory, you avoid those overhead costs associated with traditional retailing.
You pay:
Wholesale coffee costs set by your supplier
Order fulfillment fees charged by the supplier
Optional branding like custom labels and packaging
As you scale, allocate a budget for marketing to acquire new customers. But overall this model is far cheaper than buying your own roasters and equipment.
How do I choose the best coffee supplier?
Vet suppliers thoroughly. Look for:
A wide variety of green coffee beans and roasts
Customizable order minimums and packaging
Fast order processing and shipping times
Stellar customer service and responsiveness
Check online reviews and ask fellow merchants about their experiences. Take your time finding suppliers who will best support your drop shipping operation.
What coffee products should I sell?
Consider your niche and ideal customer first. Then choose:
Green coffee or roasted beans
Signature blends and single origin varietals
Different roasts like light, dark, espresso
Brewing equipment like french presses or pour over kits
Coffee subscriptions for recurring orders
How can I differentiate my coffee brand?
Stand out with:
High quality packaging and labeling
Unique or humorous brand name
An origin story and brand ethos
Content about your love of coffee
Remarkable customer service
What marketing strategies work best?
SEO optimized website and content
Email sequences, promotions and newsletters
Influencer partnerships and giveaways
Social media ads targeted to coffee drinkers
Retargeting campaigns for site visitors
Test different strategies and double down on what resonates most with your audience. Then get ready to sell lots of amazing coffee!
Hope this helps provide a smooth launchpad for your burgeoning drop shipping career. Stay bold, stay caffeinated – success awaits! ☕
Conclusion
And that's a wrap! By now you should have all the know-how needed to start your own drop shipping coffee shop.
We covered how to:
Choose the best coffee suppliers
Select delicious coffee and define your unique brand
Set up an online store to showcase your products
Use smart marketing to attract hordes of caffeine addicts
The world of drop shipping opens up an affordable, convenient way to sell coffee online without huge overhead or risk.
Follow the steps in this guide, stick close to your passion for coffee, and you'll be well on your way to brewing up success.
Once your shop is off the ground, be sure to celebrate with a soothing cup of java and a congratulatory slice of cake. You deserve it! 🎂☕
And remember – as your customer base and coffee cred grows, remain focused on the joy of sharing amazing coffee with the world. Now get out there, be bold, hustle hard, and go make some coffee magic happen. You've SO got this!