Starting a custom phone case business allows you to tap into a multi-billion dollar industry while unleashing your creativity. With the right preparation and strategy, a phone case i
I'll walk you through the process of launching a successful phone case business from start to finish. You'll learn how to:
Identify a profitable niche that matches your skills and interests
Create an eye-catching brand identity
Set up an online store with Shopify and Printful
Market your products effectively
Streamline order fulfillment and shipping
Retain customers with great products and service
By the end, you'll have the confidence and knowledge to start a phone case empire. Let's begin!
Understanding the Potential of Starting a Phone Case Business
The global phone case market is expected to grow to $134.2 billion by 2026. This growth is fueled by:
Constant demand for new phone models like the iPhone 14 and Samsung Galaxy
Growing popularity of phone case customization
Higher price points for premium cases
Repeat purchases when cases become damaged
Unlike saturated markets, the phone case industry has plenty of room for new businesses to carve out a niche.
Navigating the Competitive Landscape
Thousands of shops on Etsy and online platforms sell printed phone cases. So how can you stand out from the competition?
Focus on these key differentiators:
Unique, high-quality designs: Creative artwork tailored to your target audience
Seamless buying experience: Professional branding and store design
Fast shipping: Print-on-demand integration for speedy fulfillment
Great customer service: Quick communication and returns/exchange policy
Later, we'll explore specific tactics to help your products and brand shine.
Emerging Trends in the Phone Case Business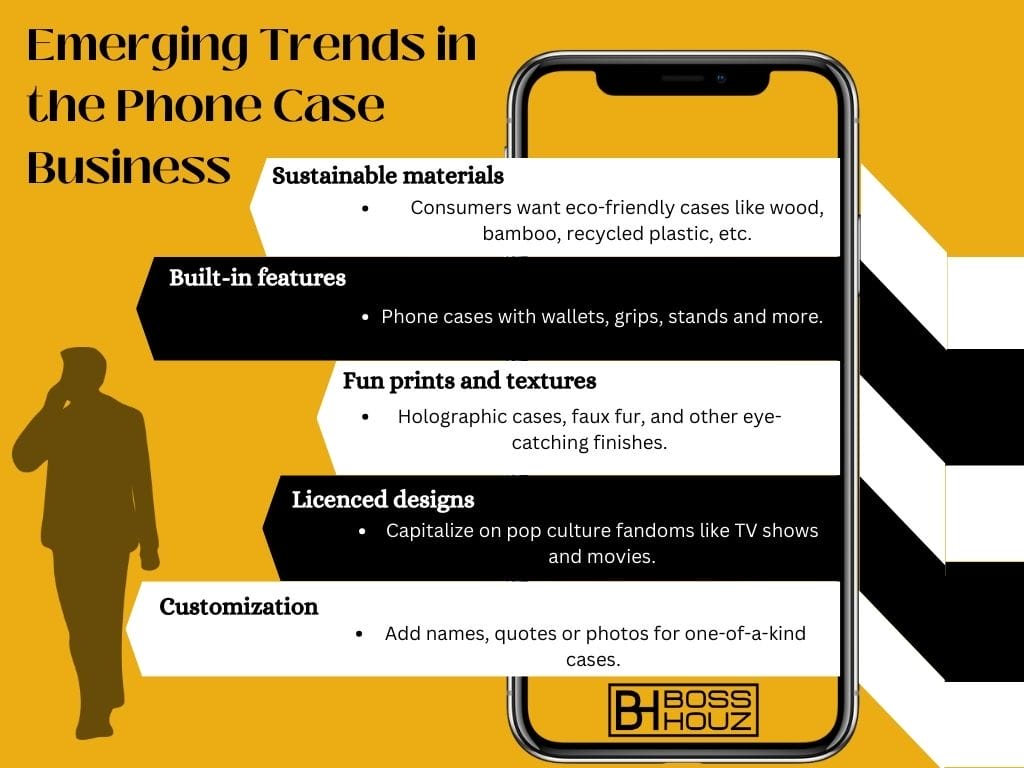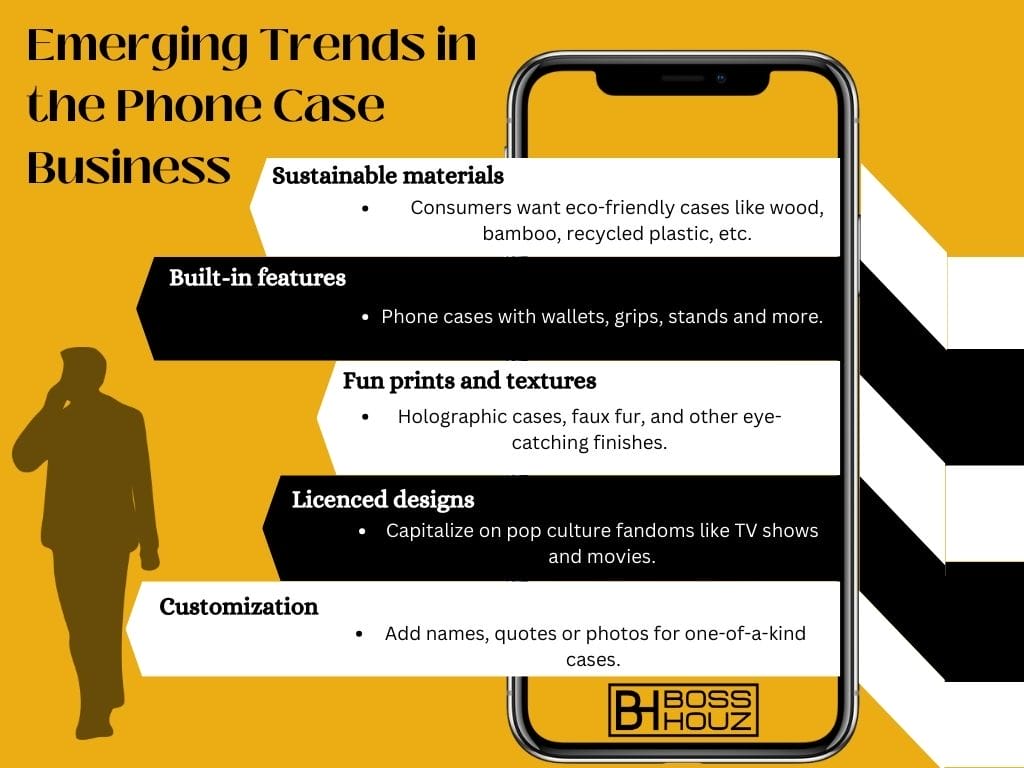 Savvy entrepreneurs look for trends to inspire new product ideas. Here are some rising trends to consider:
Sustainable materials: Consumers want eco-friendly cases like wood, bamboo, recycled plastic, etc.
Built-in features: Phone cases with wallets, grips, stands and more.
Fun prints and textures: Holographic cases, faux fur, and other eye-catching finishes.
Licenced designs: Capitalize on pop culture fandoms like TV shows and movies.
Customization: Add names, quotes or photos for one-of-a-kind cases.
Now let's dive into the step-by-step process for launching your own phone case business.
Part 1: Market Research and Planning
Proper planning prevents poor performance. Before designing your first case, you need to gain market insights and create a strategic business plan.
Step 1: Discover a Profitable Niche (For You)
One of the most important decisions is choosing your product niche. You need to find a niche that:
Has strong customer demand
Aligns with your interests and skills
Offers room for differentiation
Here are some popular phone case niches to consider:
Fandoms: Shows, movies, games, sports teams, etc. Target superfans.
Hobbies: Fitness, pets, travel, gardening, and more hobby themes.
Lifestyles: Makeup, cars, motorcycles, hunting, fishing, and other lifestyles.
Causes: Environmental, social justice, activism, charity organizations.
Humor: Sarcastic quotes, funny pop culture references.
Professions: Teachers, nurses, trade workers, and other professional groups.
Once you've narrowed your niche, use these strategies validate your idea:
Search Etsy, Amazon, and Google Shopping to gauge competition.
Join Facebook groups and subreddits related to your niche to lurk and ask questions.
Use Google Keyword Planner to estimate search volume. Look for specific long-tail keywords.
Survey your network to assess interest in your niche idea.
A laser-focused niche is the key starting point for a distinctive brand that attracts your ideal audience.
Step 2: Develop a Visual Style for Your Brand
You'll need a logo, color scheme, and design style to carry across your brand assets like your online store, packaging, ads, and social media.
Some tips for creating visual branding:
Use 2-3 colors max for your palette. Look at direct competitors for inspiration.
Choose an easy-to-read font pairing for your logo and product listings.
Integrate visual elements related to your niche like symbols, illustrations or patterns.
Ensure your logo and store banner clearly convey your brand.
Use free graphic design tools like Canva if you're not a designer.
A polished visual brand elicits trust and gives customers a glimpse into your style.
Step 3: Leverage Your Community
One underutilized strategy is tapping into your existing social network and local community. Tell friends and family about your new business to get valuable feedback on your niche, designs and branding.
Run your ideas by relevant Facebook Groups related to your niche as well. These built-in audiences can provide market validation and even become your first customers.
Later when your online store is running, don't be afraid to promote it to your network. Share discount codes and ask happy customers to post photos of your products on social media. Word-of-mouth referrals from satisfied customers are incredibly powerful for independent businesses.
Part 2: Setting Up Your Business
With your niche selected and brand visuals complete, it's time to set up the backbone of your phone case company.
Step 4: Decide How You're Going to Sell
You have a few options when it comes to selling your phone cases:
Online store: Your own Shopify store, Etsy shop, Amazon Handmade, etc. This allows you to control branding, set pricing and product listings. Requires website setup.
Marketplaces: Sell via Etsy, eBay, Amazon Marketplace, etc. These have large built-in audiences but less brand control.
Wholesale: Sell to retail stores in bulk. Difficult for new businesses to break into and requires large inventory.
Brick and mortar: In-person sales at markets, pop-ups or your own store. Time intensive but great for localized brands.
Hybrid: Mix of online store, marketplaces, and in-person selling. Provides the most exposure.
Most new phone case companies will start with an online storefront and expand to marketplaces once established.
Step 5: Choose Your Selling Channels
For DIY online stores, Shopify is the best e-commerce platform. Shopify makes it easy to create a polished, mobile-friendly storefront and sync your product inventory.
Printful seamlessly integrates with Shopify allowing you to upload designs to automatically create product listings. When an order comes in, Printful handles printing and shipping your products. This print-on-demand model means:
You don't need to stock pre-made inventory
Orders print and ship quickly to customers
You scale effortlessly as you grow
With Shopify and Printful working together, you can have your online store up and running in less than a day.
Shopify has tons of free and paid themes to optimize the look of your store. Use relevant keywords and quality product photos in your store and product listings. This helps with SEO and conversion rates.
Step 6: Perfect Your Production Process
For your production and fulfillment process you have two main options:
Print-on-Demand: This was covered above using Printful. No upfront costs, instant scalability, and fast order processing. But slightly lower profit margins.
Bulk production: Ordering inventory in bulk from a manufacturer can increase profits but requires upfront costs. You also need to handle storage and shipping logistics. Start with print-on-demand while testing product-market fit.
Printful has some of the widest phone case style and material options like snap-on hard cases, sleek one-piece cases, clear cases, and even eco-friendly bamboo.
Beyond cases, Printful offers posters, t-shirts, mugs and other products you can add down the line.
Their quality and shipping speeds consistently rank highly from customer reviews. Printful handles returns and exchanges too.
Overall, Printful will fulfill your phone case orders quickly, professionally and with little effort on your part.
Part 3: Creating and Marketing Your Products
You have the operational side of your business handled. Now it's time to focus on product creation and promotion.
Step 7: Create Your Listings
Crafting compelling product listings is key to converting site visitors into paying customers. Make sure each product page has:
High-quality product photos and mockup images
Strong, keyword-rich titles and descriptions
Detailed sizing charts and specifications
Bullet-point features and benefits
Reviews, comparisons, or videos if possible
Because most of your customers will be first-time visitors, your listings need to convey why your specific cases are worth purchasing.
Step 8: Drive Traffic to Your Online Store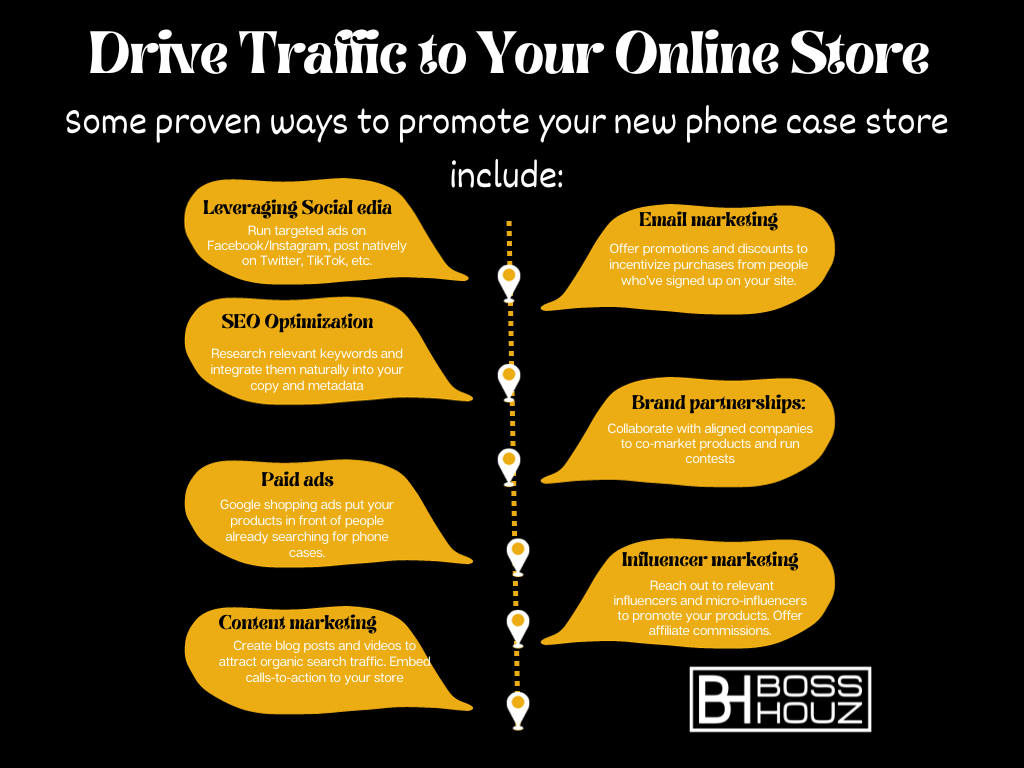 Some proven ways to promote your new phone case store include:
Leveraging social media: Run targeted ads on Facebook/Instagram, post natively on Twitter, TikTok, etc.
SEO optimization: Research relevant keywords and integrate them naturally into your copy and metadata.
Influencer marketing: Reach out to relevant influencers and micro-influencers to promote your products. Offer affiliate commissions.
Paid ads: Google shopping ads put your products in front of people already searching for phone cases.
Content marketing: Create blog posts and videos to attract organic search traffic. Embed calls-to-action to your store.
Email marketing: Offer promotions and discounts to incentivize purchases from people who've signed up on your site.
Brand partnerships: Collaborate with aligned companies to co-market products and run contests.
Start small and double down on marketing channels that deliver results. Be relentless about testing new tactics and scaling up winners.
Step 9: Fulfilling Orders and Getting Repeat Customers
Delivering a positive customer experience ensures your new business gets referrals, reviews, and repeat purchases.
Send order confirmations and tracking numbers ASAP
Include thank you notes or freebies with the shipped orders
Follow up after delivery to get reviews and feedback
Make returns/exchanges easy with clear policies
Offer subscriptions for discounted reorders
Send personalized email offers for new designs
Don't lose momentum once your store is up and running. Set goals for new product releases, sales targets, and marketing campaigns to continually improve your business.
Part 4: Designing and Production
Printful makes it simple to take your custom designs and turn them into physical products ready to ship out. Let's explore how to use their powerful platform.
How to Make Phone Cases With Printify
The process for creating phone cases with Printify is straightforward and involves a few simple steps:
Choose Your Phone Case Type:

Decide on the style of the phone case you want to create. Options include snap-on cases, slim cases, tough cases, and clear cases, among others.

Select the Phone Model:

Choose the phone model for which you are creating the case. Ensure that Printify supports the model you select. Here are some of the latest models you might consider:

iPhone: iPhone 13 Mini, iPhone 13, iPhone 13 Pro, iPhone 13 Pro Max
Samsung Galaxy: Galaxy Z Fold 3, Galaxy Z Flip 3, Galaxy S21, Galaxy S21+, Galaxy S21 Ultra
Google Pixel: Pixel 6, Pixel 6 Pro

Design Your Case:

Upload your design or artwork onto the selected case. Ensure that the image used is high-resolution for the best print quality. You can also customize the design using tools provided by Printify.

Review and Edit:

Preview your design on the phone case, ensuring it appears as you desire. Make any necessary adjustments to the design positioning and size.

Publish and Sell:

Once you're satisfied with the design, you can publish it to your store. Customers can then purchase the customized phone case.
Part 5: Advanced Strategies
Once you've mastered the basics, here are some pro tips to step up your phone case business:
Understanding the Types of Phone Cases
Let's overview the main categories of phone cases and key features of each:
Flexi Cases: Thin, skin-tight cases that add grip and light protection. Show off the phone's shape.
Clear Cases: Fully transparent cases that maintain the phone's look. Great for minimalist designs.
Biodegradable Cases: Made of natural materials like wood, straw, or bamboo. Appeal to eco-friendly buyers.
Slim Cases: Provide protection with a low-profile. Popular for minimal wallets and card holders.
Rugged Cases: Thick protection for outdoor use. Often have built in screen covers. Ideal for nature themes.
Branch out and offer a variety of case types to attract broader audiences. Mix up textures and finishes too.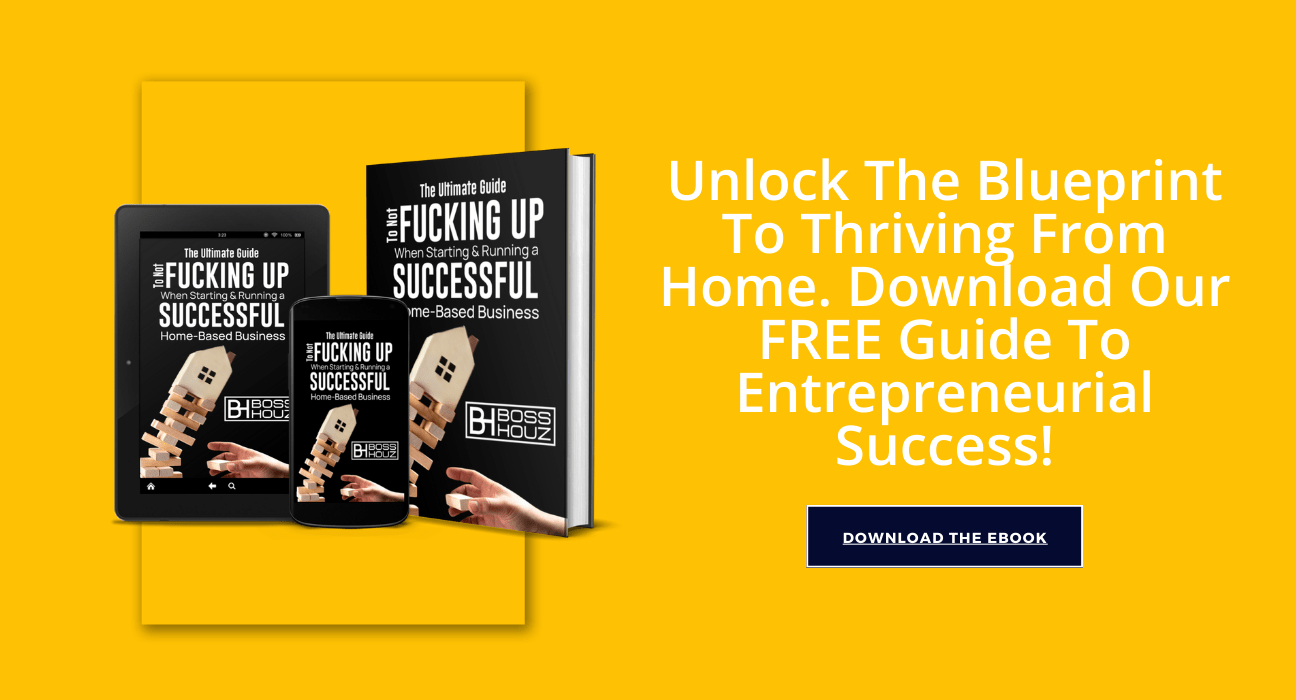 Frequently Asked Questions (FAQ)
Let's review some common questions people have about starting a phone case company:
Why Start a Phone Case Business?
It's an affordable startup, taps into a huge market, and lets you monetize your creativity. You can even begin as a side business while keeping your full-time job.
Is a Phone Case Business Profitable?
Absolutely. The low startup costs, built-in demand, and repeat customer behavior create an incredibly profitable ecommerce model. Profit margins can easily surpass 65%.
What Do You Need to Start a Phone Case Business?
All you really need to get started is: a niche idea, brand identity, custom designs, and an online storefront like Shopify. The rest can be handled by print-on-demand partners.
Devices to Make Custom Cases For
The most popular options are iPhone and Samsung Galaxy cases. You can expand into cases for iPads, Airpods, smart watches and laptops down the road as well.
How to Make a Phone Case Business: 7 Steps to Launch
Here are the key steps covered in this guide:
Find a profitable niche
Create branding and style guide
Make custom designs
Set up Shopify store
Integrate Printful
Market your new products
Provide excellent customer service
How Much Does It Cost to Start a Phone Case Business?
The total costs can be less than $500. Shopify starts at $29/month. Printful has no monthly fees. You may spend a bit on a logo, marketing, and sample inventory.
Starting a Custom Phone Case Business in 2024
There's never been a better time. The market keeps expanding, online sales have boomed after Covid, and print-on-demand services make launching easier than ever. Take the leap!
Conclusion
We hope this guide provides you with the essential strategies and insights to confidently start your own phone case business.
By identifying a profitable niche, establishing your brand, setting up your online store, creating eye-catching designs, and relentlessly marketing your products, you can tap into the booming phone case market.
Don't let initial challenges discourage you. With grit and determination, anyone can turn their creative passion into a thriving business.
We wish you the absolute best on your entrepreneurial journey ahead. Believe in yourself, move boldly in the direction of your dreams, and enjoy the rewarding process of building something from the ground up.
You got this!