Hey guys! Do you dream of having the perfect masculine workspace where you can get stuff done but also kick back and relax? Well, you're in luck.
In this blog, I'll be sharing tips on how to design the ultimate man cave office – your home base for productivity and play.
Let's start with the basics. A sturdy wooden desk and cushy leather office chair bring a traditional style while keeping things functional.
Add reclaimed wood paneling or vintage maps for old-school flair. Optimize your comfort with a standing desk or treadmill desk so you can move while you work.
When you need a break, a mini fridge stocked with cold ones, a pool table, and dartboard make blowing off steam easy. Queue up playlists on a retro media console to jam out between tasks.
The best part? You can customize your man cave over time with sports memorabilia, family photos, collectibles, and neon signs to reflect your passions. So get ready to design your ideal masculine workspace.
This blog has tips to optimize productivity and fun – so you can work hard and play hard all from home. Let's get started!
Designing a Masculine Workspace
Creating the ideal masculine workspace starts with choosing furniture and decor that exude a rugged, masculine vibe. Let's compare some traditional and modern decor elements to design your perfect man cave office.
| Decor Aspect | Traditional Masculine | Modern Masculine |
| --- | --- | --- |
| Desk | Wooden desk | Metal or glass desk |
| Chair | Leather office chair | Ergonomic task chair |
| Walls | Wood paneling | Concrete, brick, or wood slats |
| Lighting | Billiards light pendant | Track lighting or spotlights |
| Accents | Globe, maps, model ships | Neon signs, artwork |
| Entertainment | Record player, vintage media console | Bluetooth speakers, smart TV |
| Games | Pool table, dartboard | Arcade games, VR setup |
| Refreshments | Mini fridge, bar cart | Craft beer taps, coffee station |
For a traditional masculine vibe, choose furniture made of rich materials like wood and leather. A sturdy wooden desk and vintage leather chair exude old-school sophistication. Wood paneling or reclaimed wood walls add a rugged texture.
For lighting, a vintage billiards pendant sets a masculine mood. Display vintage maps, globes or model ships for old-school flair. For a modern edge, choose sleek metal, glass, or concrete furniture.
A minimalist desk and ergonomic chair keep things streamlined. Exposed brick, concrete, or wood slat walls add urban texture. Use track lighting or spotlights for a modern look.
Display colorful artwork or neon signs as bold accents. The man cave can blend traditional and modern elements for an eclectic vibe. Customize your workspace to match your personal style and passions.
Masculine materials like wood, leather, and metal paired with your favorite decor create a functional yet stylish retreat.
Now that we've covered designing a masculine workspace, let's move on to optimizing comfort and productivity next. I'm happy to keep going – just say the word whenever you're ready!
Optimizing Comfort and Productivity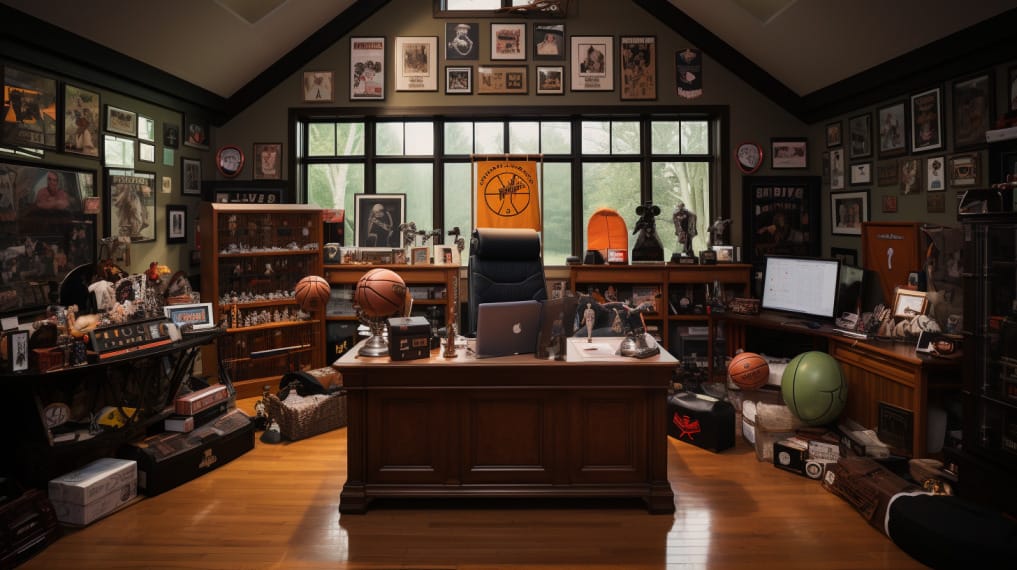 Choosing Ergonomic Furniture
Start with an ergonomic office chair to support healthy posture during long work hours. Look for cushioned seats, lumbar support, and adjustable features so you can customize the fit. Your desk also impacts comfort. A spacious wooden desk provides traditional appeal while giving you ample workspace. Consider a standing desk or treadmill desk to stay active while working.
Lighting for Focus
Proper lighting is crucial for productivity. Overhead pendant lights provide soft general lighting. But you need task lighting too – a desk lamp helps illuminate your work surface.
Entertainment and Memorabilia
When you need a break, entertainment options keep you energized. A mini fridge stocked with cold drinks fuels you up. Queue up playlists on a Bluetooth speaker system to jam out. Displaying favorite memorabilia also boosts motivation. Fill your man cave with meaningful posters, team banners, trophies – anything that inspires you.
Bringing in Nature
Greenery adds life and calming vibes. Potted plants on your desk or larger statement plants in floor vases bring nature indoors. With comfort and productivity optimized, your man cave office allows you to alternate between intense focus and rejuvenating relaxation. You can work efficiently while also enjoying downtime in your personalized sanctuary.
Lighting Ideas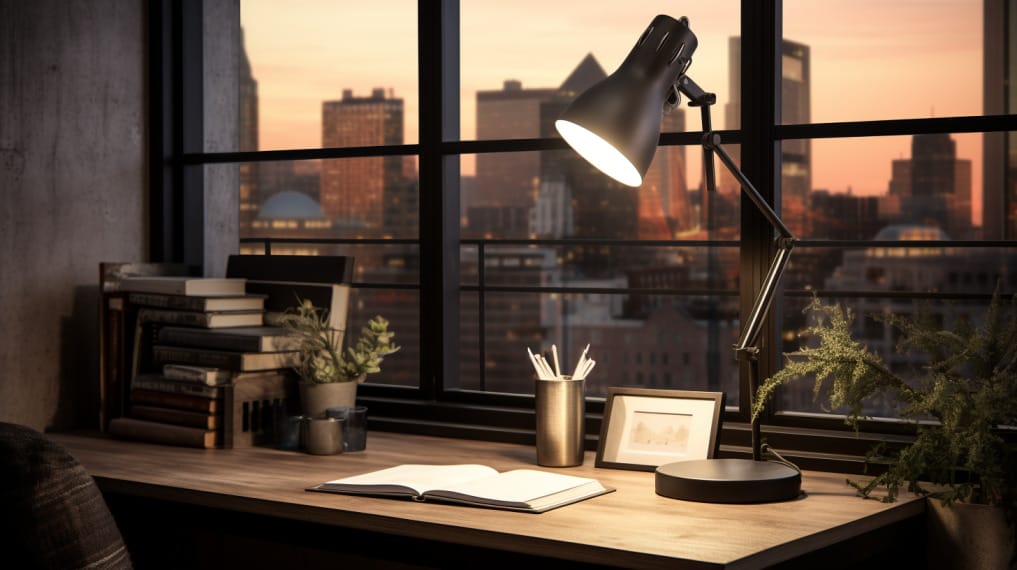 Lighting plays a key role in creating the perfect ambience in your man cave office. Use a mix of statement lights and functional task lighting.
Statement Lighting
Make a bold style statement with masculine overhead fixtures like a industrial metal chandelier. These create an inviting glow for lounging areas.
Task Lighting
| Type | Purpose |
| --- | --- |
| Architect desk lamp | Illuminates work surface to prevent eye strain |
| Track lighting | Directs light onto display shelves or work area |
| Under cabinet lighting | Provides task lighting in a small footprint |
Don't forget proper task lighting at your workspace. Adjustable architect lamps reduce eye strain during work sessions. Track lighting spotlights display shelves. Under cabinet LEDs provide task lighting in tight spaces.
Mood Lighting
Use accent lighting to set a relaxing vibe. Wall sconces illuminate artwork while accent lamps create a cozy reading nook. Smart lighting controls like dimmers allow you to shift the ambience from bright and focused, to moody and laid back. With the right mix of statement, task, and accent lighting, your man cave's illumination can adapt seamlessly as you switch between productivity and leisure time.
Small Space Solutions
Just because your home office is compact doesn't mean you can't create an awesome man cave office space. With some savvy design tricks, even a tight space can be optimized for both productivity and leisure.
Multifunctional Furniture
Desk with shelving above for extra storage
Ottoman that doubles as a coffee table
Storage bench that can also be used for seating
Creative Storage
Built-in or floating wall shelves
Sliding doors on cabinets
Under-desk file cabinets
Vertical racks for displaying items
Visual Tricks
Mirrors to reflect light and create the illusion of space
Glass desk or see-through cabinetry
Space-Saving Furniture
Wall mounted shelves
Fold down desk or Murphy bed
Convertible furniture pieces
Going Vertical
Floor-to-ceiling bookcases
Wall mounted desk
Shelving over doorways
With some smart solutions, even the tiniest home office can be optimized as a multifunctional man cave workspace for productivity and leisure.
Budget-Friendly Tips
Creating stylish man cave offices on a budget is totally doable with some savvy decorating tips.
Upcycle Existing Pieces
Paint or stain hand-me-down furniture
Refresh thrifted decor items
Repurpose flea market finds
Shop Secondhand
Check thrift stores and garage sales
Browse Facebook Marketplace
Look for vintage memorabilia
DIY Decor
Build floating shelves from reclaimed wood
Make your own desk from pipes and boards
Print and frame artwork
Affordable Storage
Stackable crates and baskets
Multifunctional ottomans
Pegboards to hang tools
Use Paint
Bold colors to transform space
Paint concrete floors or wood paneling
Stencil patterns onto walls
Inexpensive Touches
Band posters in thrifted frames
Collections displayed on shelves
Area rugs and throw pillows
With some creativity and thriftiness, you can design a stylish man-cave workspace on any budget. Focus on pieces with a personality that reflects your unique style.
Personalization Ideas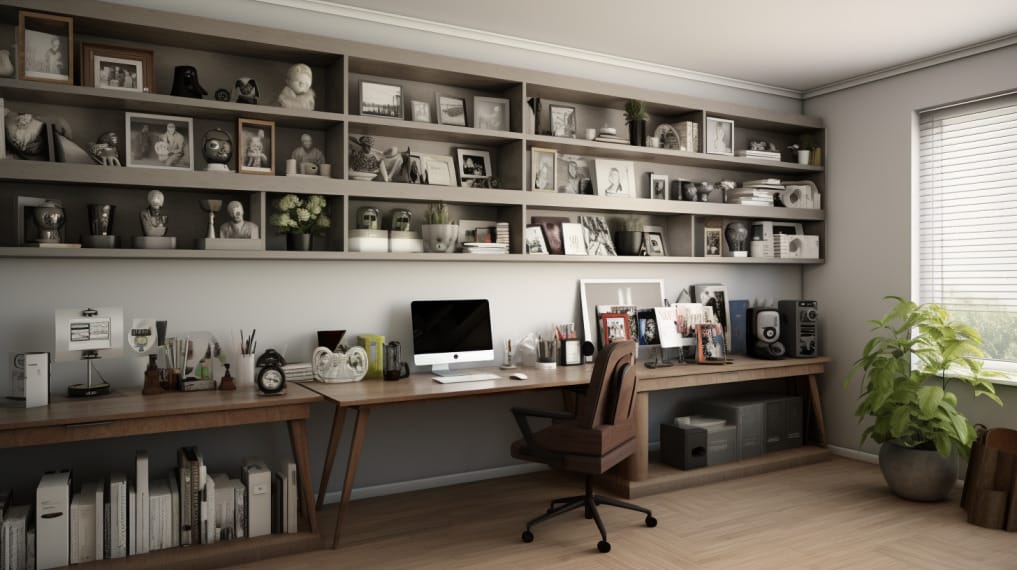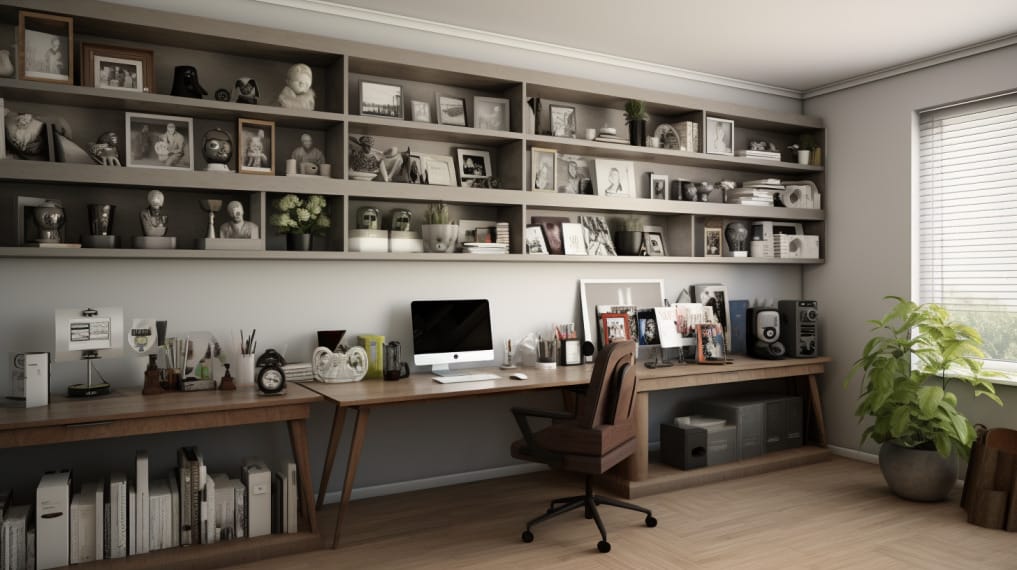 Adding personal touches is key to making your man cave office distinctly yours. Display items that reflect your interests and personality to create a space you'll love spending time in.
Meaningful Memorabilia
Frame sports jerseys, vintage concert posters, or family photos
Display fragile keepsakes in shadow boxes
Showcase trophies or collectibles
Filling your space with meaningful memorabilia adds character and lets your personality shine through. Curate selections that highlight your passions.
Collections
Bookcases filled with favorite books, albums, or collectibles also lend personal flair. Organize your shelves to showcase interests like:
Favorite novels or cookbooks
Model cars or Lego builds
Vinyl records or comic books
Grouping cherished items creates eye-catching displays.
Personal Touches
Add personal elements like:
Custom neon sign with your name or motto
Monogrammed items like blankets or drink ware
Photos, artwork, or posters styled in frames
Even small personal touches make the space distinctly yours. When your man cave reflects your interests and showcases special keepsakes, it becomes a personalized sanctuary you'll be motivated to spend time in.
Bringing it All Together
Designing the ultimate man cave office is all about creating a space tailored to your unique style and needs.
| Element | Description |
| --- | --- |
| Furniture | Blend traditional wood pieces with modern metal and glass |
| Decor | Mix vintage items like maps and globes with neon signs |
| Memorabilia | Display meaningful items like sports gear and posters |
| Lighting | Use both task lighting for focus and ambient lighting for relaxation |
| Zones | Include areas for productivity like a desk and areas for leisure like lounge seating |
| Personal Touches | Add items that reflect your unique style and personality |
Conclusion
Creating the ultimate man cave office starts with choosing furniture and decor that speak to your personality. Traditional masculine materials like wood, leather, and metal pair nicely with modern accents.
Display meaningful memorabilia and collections to make the space distinctly yours.
Proper lighting keeps you focused and energized.
By blending work and leisure zones, your man cave allows you to seamlessly switch modes when needed. Most importantly, customize your workspace to match your unique style – then get ready to enjoy your ideal home office retreat.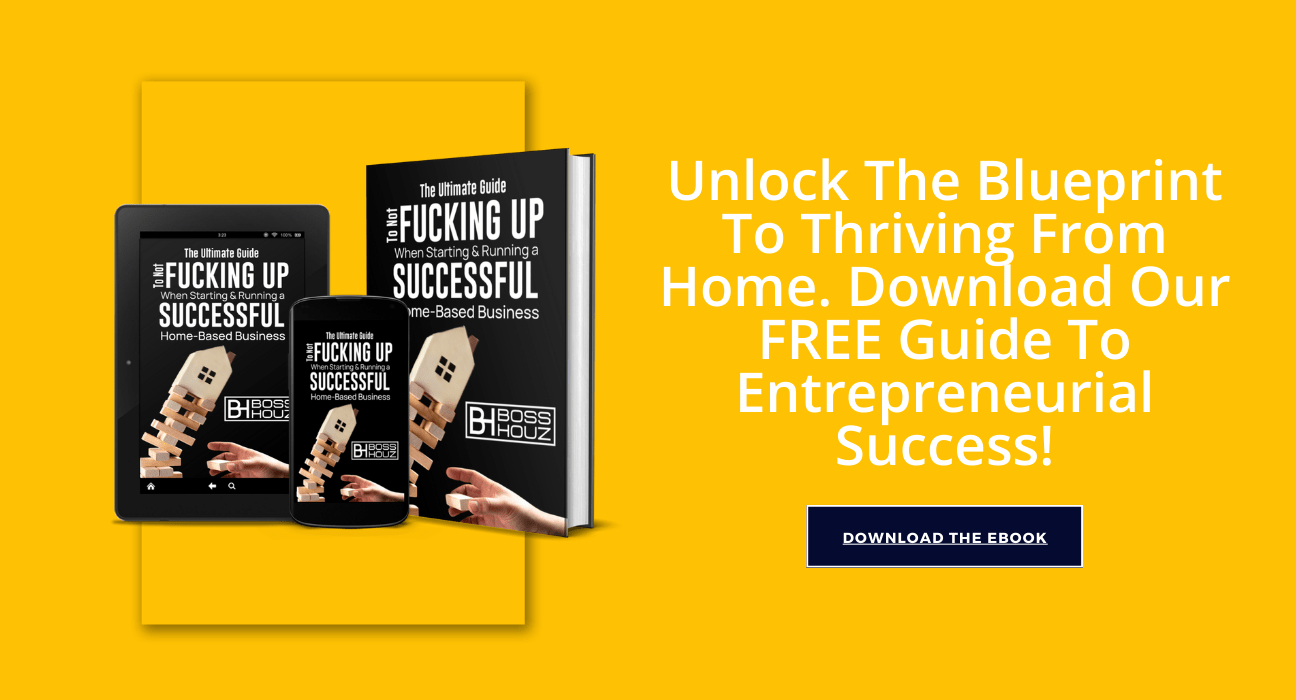 FAQ for Man Cave Home Offices
What are some traditional decor elements for a man cave office?
Some traditional masculine decor elements include:
Wooden desk and bookshelves
Leather office chair
Globe, maps, model ships
Wood paneling
Vintage lighting
What are some modern decor ideas for a man cave office?
Some modern decor elements for a man cave office include:
Metal or glass desk
Ergonomic task chair
Exposed brick or concrete walls
Track lighting or spotlights
Neon signage
What are some key activities and zones to include?
Key zones in a man cave office include:
A desk area for productivity
Lounge seating for relaxation
Entertainment like TV, games, music
Display areas for memorabilia
Refreshment station with mini fridge, bar cart
How do you make a small man cave office work?
Tips for a small man cave office:
Use multifunctional furniture like storage ottomans
Add vertical storage with wall-mounted shelves
Visually expand space with mirrors
Opt for space-saving furniture like a wall-mounted desk
Go vertical with floor-to-ceiling bookcases